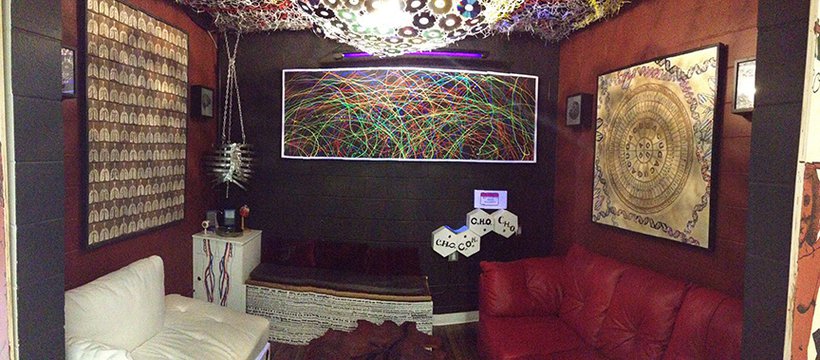 Cultural Project Combines Arts, Biology and Design
In this issue

Engage- Volume 6, Issue 2, Spring 2016
Marea Olafson has taught art classes for 20 years, but during her year-long experience at Watson High School was the first time she had met the challenge of combining art and biological concepts into creating the school's first-ever student lounge.
"That year, I was an art teacher who ended up teaching biology," she explains. "Then, it was discovered that the student body wanted a lounge." She quickly put all these diverse ideas together. "We had a school space that wasn't being used, and I thought, why don't we create a lounge that relates to human biology?"
Olafson's background in the arts served her well, and thanks to funding from ArtsSmarts Saskatchewan, a program supported by the Saskatchewan Arts Board, SaskCulture and Saskatchewan Lotteries, she put together a plan. Olafson had worked on ArtsSmarts projects in the past with Saskatchewan artist Jay Kimball, so she approached him to get involved again. "We applied for the grant, and once it was secured, we got to work."
"I called the project 'social installation architecture', because the objects created a social dialog with people in the space," says Kimball. Kimball explains how the four-month project began in February, and involved approximately 60 students, ranging from Grades 5-12. "For the first two weeks, I did training and design work with the students," he explains, adding that he remained available afterwards for consultations.
Olafson is quick to assert that involvement in the project had a positive effect on students. "I had kids that weren't coming to school or participating," she says. "Suddenly they were coming to school early and staying after school.
Kimball also noted how, "Class participation went up, and students brought more enthusiasm into their learning." When complete, the school's blood red lounge housed a variety of biology-based artworks, including 144 tiles of human lungs, four sconces decorated with biological systems, a three-dimensional ribcage made from auto parts, a ceramic bowl depicting human intestines, and a bench made from vehicle tailgates that represented the human muscular system.
"We made a mural with glow-in-the-dark paint, to represent neurons, and a painting of the genetic codon wheel," she says. The school's new lounge also sports drinking vessels adorned with carved human anatomy, depictions of DNA strands, a coffee table that resembles a human heart, and a ceiling-based sculptural replica of Stargardt's disease, a visual disorder, made from 6,000 zip ties. "We also installed four hexagon-shaped lockboxes with phone charging stations," she adds. "They represent the endocrine system."
"This project really shook up the school in Watson," Olafson claims. "It was a real community effort, with lots of in-kind support." Kimball adds that, "The installation was one of the most rewarding projects I've been involved with, because it will have a residual effect on the school community."