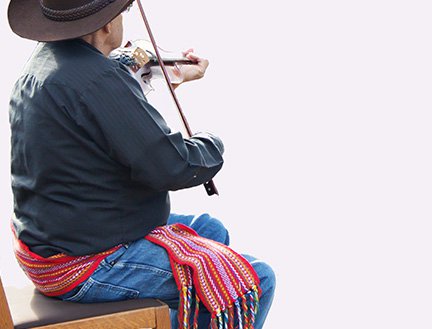 Métis Cultural Camp Strengthens Youth Identity
In this issue

Engage- Volume 6, Issue 2, Spring 2016
For a group of Grade 8 students from St. Mary's Wellness and Education Centre in Saskatoon, the idea of "going camping" took on a special cultural significance last fall.
Jennifer Altenberg, a teacher at St. Mary's, believes in taking her students camping as a way of preparing them for the transition into high school, but she wanted to add culture to the experience. Thanks to funding from the Métis Cultural Development Fund and, 19 students had the chance to attend a Métis cultural camp at Camp Kinasao at Christopher Lake, Saskatchewan, offered through the Saskatchewan Urban Native Teacher Education Program (SUNTEP). Altenberg, a SUNTEP alumni, and her students participated in the camp along with SUNTEP student-teachers, along with various elders and knowledge keepers.
Knowledge keepers are people from the community that are sharing their gifts with participants, Altenberg says. During the camp, these knowledge keepers shared the Michif language, music, drumming, birch bark baskets, canoeing, cattail doll-making, making bannock, and other traditional teachings.
"The kids sat around them, and they got to talk about medicine and to hear stories," she explains. "That just doesn't happen in the classroom." The students were a mix of Métis, First Nations, and non-Indigenous students, including some newcomers to Canada. "We actually sat with adult learners for almost all of the sessions. There was a lot of time together when were taught by the Elders. Then the kids broke off into groups."
Spending the weekend outdoors was a treat for them too, she adds. "To a city slicker from St. Mary's, it was a pretty cool experience."
"Anytime you focus on culture, it strengthens their identity. It affirms who they are, and it affrims that they're good enough."
Previously, Altenberg had taken her students camping at the end of Grade 8 as an "earned" activity. "But the more I've come to know kids," she says, "the more I realize [this experience] is about so much more than that. It's about building positive, strong relationships with young people, so you can get them through the hard days. When things get tough, and they need someone to trust, just to count on, they have those [memories].
"It's all about the relationship. It's all about the emphasis on culture. Anytime you focus on culture, it strengthens their identity. It affirms who they are, and it affirms that they're good enough or 'as good as'. And they go home and live that."
Altenberg gives credit to organizers such as Liza Brown and Jed Huntley as the "masterminds" behind the idea. It became a diverse partnership of SUNTEP Prince Albert and Regina students and teachers, the Pleasant Hill Community Association, St. Mary's, Elder Norman Fleury of Saskatoon, along with 15 other elders and knowledge keepers.