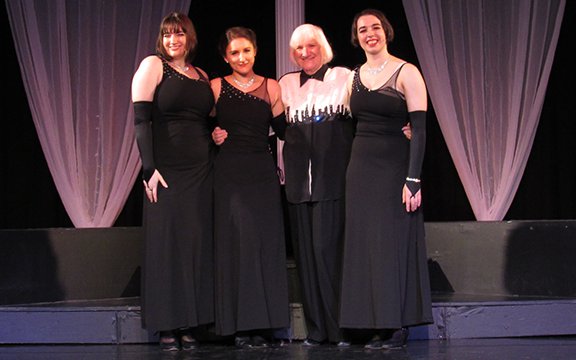 Youth Take Opportunities to Express Themselves
In this issue

Engage- Volume 6, Issue 2, Spring 2016
More than just dancing and singing training, Saskatchewan Express offers youth opportunities to build confidence, work with others, express themselves creatively and grow as individuals.
Since 1980, Saskatchewan Express has been nurturing and showcasing the talents of many young Saskatchewan performing artists by providing them the opportunity to be in a popular touring musical ensemble.
Moose Jaw resident Jessica Feist is in her second year with Saskatchewan Express. She came to the group with little in the way of formal training, but it hasn't held her back. "It's a big confidence builder. They're not strict about years of dance experience. You can come in not having a lot of experience but you learn you can do so much more with your body," she says. She has enjoyed the time on the road visiting communities and schools.
"It's great to see kids who don't have much contact with the arts get to actually do something like this," she says. The school visits include workshops demonstrating choreography and vocals, and performances. Her experience and connections have already helped her land a part in Prairie Skies' 2015 production of Spamalot.
Feist also feels that the experience was important to her emotional health. "Everyone needs some sort of outlet for their emotions, some way to relieve stress and share themselves. You can be very isolated if you stay within yourself if you are creative," she says.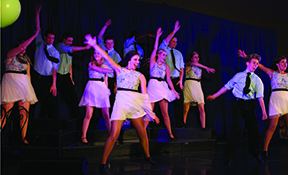 Jillana Woloschuk, from Saskatoon, is in her first year of the winter tour. She started ballet at about five years of age and also liked to sing. Woloschuk joined Saskatchewan Express Musical Theatre and Dance Studio in Saskatoon when she was about eight. She graduated from high school in June but has already had some incredible experiences. "With the Saskatchewan Express Studio we performed with the Canadian tenors, we opened for the Canadian Country Music awards a couple years ago, and we traveled to New York for workshops."
Young people from throughout the province audition each year for Saskatchewan Express's winter and summer casts. "I think it's really great to spend time with people who share the same interests and are willing to work hard too," says Woloschuk.
Carol Gay Bell, artistic director and general manager, Saskatchewan Express, founded the company in 1980 and is proud of its ability to engage young people in the performing arts, as well as helping to create audiences. "If you want to go into the performing arts you have to constantly keep learning and keep doing. To have the opportunity to learn and do here in Saskatchewan without having to go somewhere else is such an incredible opportunity," she explains.
Former members of the cast of Saskatchewan Express have gone on to perform at Stratford and on Broadway, on cruise ships and in Las Vegas, and in film and television. They have followed their dreams taking the experiences gained in this province with them.
Erica Hartman is another cast member from Saskatoon who says creativity, passion and enthusiasm are crucial to the show. "Saskatchewan Express is a very good beginning step professionally if you want to get into the arts throughout Saskatchewan and Canada. It's a good building block to get used to the idea of what it is going to be like in professional theatre. It may not be the biggest name in the world, but it is one of the best names in Canada."
Nora Berg, promotion and marketing coordinator, Saskatchewan Express, explains that "If it weren't for the support of SaskCulture and Saskatchewan Lotteries, we simply wouldn't exist. It is their support that allows us to make such a difference in the lives of the young people who come through our program."