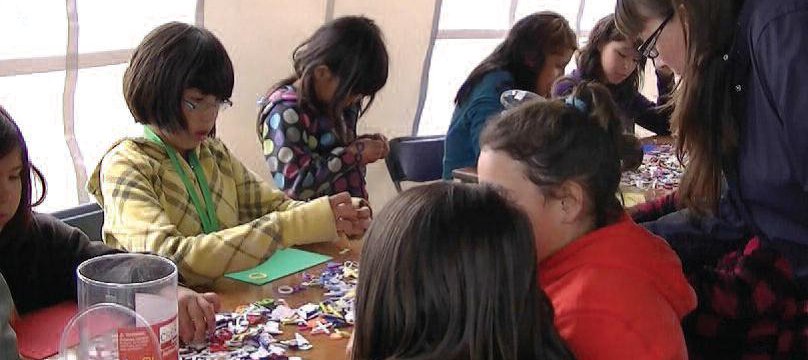 Culture Days... helping communities celebrate culture
This past year, Saskatchewan participated in the first-ever Culture Days celebration that highlighted free, interactive cultural activities from across the country taking place on September 24-26, 2010. The province extended the celebration to an entire Culture Week, and had over 130 activities, from 23separate communities, registered into the national Culture Days database.

Saskatchewan communities celebrated in many different ways, from holding artist studio or backstage tours, to offering belly-dancing, mural-making, to multicultural performances and more. During the Culture Days and Culture Week, residents had the opportunity to twist wire into words, recited poetry, tried their hand at calligraphy, explored archives, learned some new dance moves, and even maneuvered wheelchairs across a painted canvas.

Saskatchewan artist Laura Hale got a firsthand look at cultural activity in communities through her travels throughout the province as Culture Days Animateur. "Personal visits and travelling to communities in the province is a great way to engage people and spark ideas," said Hale, who took the time to speak with community leaders about what was unique in their community and could be used to plan a Culture Days activity.

Travelling in a Culture Days-decaled van, Hale covered 4,000 km in 30 days, driving a circuit through Gravelbourg, Moose Jaw, Estevan, Lumsden, Regina, Prince Albert, Meadow Lake, Battlefords, Lloydminster, and Saskatoon. At each location she provided opportunities for people to express their thoughts about arts and culture by shaping coloured wire into words.

"Through this experience," she says, "I was able to gather hundreds of different words, engage people in conversations about culture in their area, ideas for local Culture Days activities, and how they could get their community involved and feel part of the bigger picture of Culture Days."

In its first year, Culture Days sprang up right across Canada. In total over 4,500 cultural activities were held in over 700 Canadian cities and towns and the opportunity to engage in free, interactive cultural activities caught people's attention.

From a national survey of all participating provinces, 30% of Canadians reported that they had heard of Culture Days, with Winnipeg and Regina having the highest per capita scores 50% and 44% respectively.
Over two-thirds of the respondents noted that Culture Days raised their awareness of the range and quality of arts and cultural activities in the community and how artist and arts organizations make positive contributions to the community (more than two-thirds agreed). They also said they were inspired to attend more locally-based events in the future (7 out of 10). For those who did not attend, scheduling conflicts or limited time were the main reasons cited. Two-thirds said they were "somewhat likely", and one quarter said they were "very likely" to attend next year.

Highlighting cultural attractions and artists…

Culture Days provides a great opportunity to showcase your community and build civic pride. Both Kindersley and Weyburn proclaimed Culture Days in September 2010 and used the opportunity to encourage the communities to celebrate their cultural assets. Kindersley held a Culture Crawl, heritage walking tour, arts walk, film festival encored, as well as goose plucking and potato peeling during its 38th annual Goose Festival. Weyburn invited residents to an event in the park, where it paid tribute to the work of local artist Mildred Coghill and featured the work of many other local talents. The City of Saskatoon, which also proclaimed Culture Days, helped build a partnership among several different organizations in the city to showcase the range of cultural opportunities available.

Communities working together to showcase culture…

One of the most successful Culture Days partnerships took place in the north. Organized by the Flin Flon Arts Council, the communities of Flin Flon, MB and Creighton and Denare Beach, SK worked to create a weekend of cultural activities. Over 5,000 residents, including a few tourists, participated in events in these communities, whose combined population is not much higher. Activities over the weekend included artist studio tours with artist talks, filmmaking workshops, mask-making, multicultural showcases, quilt making demonstrations, interactive Aboriginal displays, writing groups, youth theatre experiences, school programming and more.

Kicking it off with Culturefête…

If people wanted to get interactive and try cultural activities, the CBC Culturefête in Regina was the place to be. Over 800 participants dropped by to try different opportunities including origami, wire words, henna tattoos, face-painting, storytelling, photography, map building, poetry-writing and more. The festive atmosphere was supported by lively performances from a variety of local multicultural musicians. A first-ever event for Regina, Culturefête proved to be a great example of partnership and culture. During Culturefête, SaskCulture took the opportunity to capture photos of people and their thoughts about culture in Saskatchewan.