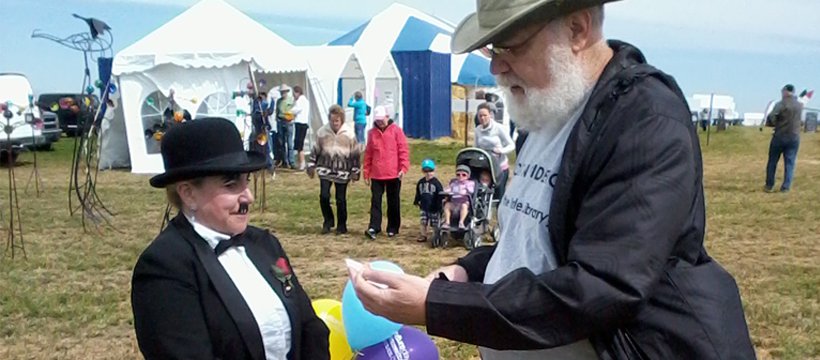 Culture Days highlights importance of culture to communities
This year, SaskCulture once again spearheaded the Culture Days celebrations in Saskatchewan. Leading up to the Culture Days week, organizers were pleased to see over 160 cultural activities registered, by over 40 communities in the province, into the national database. Swift Current stood out with over 27 separate cultural activities registered – one of the highest single community (of its size) registrations in the country.

Only in its second year, Culture Days has seen growing success in its ability to unite the province, and the country, in a national celebration of our culture.

"SaskCulture sees Culture Days as an opportunity to highlight the wealth of cultural activities in the province," explains Rose Gilks, General Manager, SaskCulture. "People often take for granted the many cultural opportunities that exist all year long thanks to the many artists and cultural workers who contribute to creative expression of all kinds in this province."

This past year, SaskCulture hired four Saskatchewan artists as Culture Days Animateurs, on contract from May to November 2011, to get the Culture Days message out to communities, hold workshops designed to promote interactive cultural engagement and inspire creative thinking around the province. Mindy Yan Miller, a visual artist from North Battleford worked in the northwest portion of the province, visiting many rural communities and First Nations reserves in the area. Darlene Williams, a dance artist from Saskatoon, travelled north and east to help communities develop Culture Days plans. Paul Wilson, a Saskatchewan author and publisher, took the idea of an "Invisible Library" across the southern portion of the province to festivals and summer celebrations. While Johanna Bundon, a dance and visual artist, worked on an interactive sound recording art project in and around Regina.

According to Paul Wilson, "Everyone can try something new and get the opportunity to appreciate different forms of cultural expression. It brings us together and makes us stronger."

Last year, only one Culture Days Animateur was hired to engage the province. Gilks explains that, "this year, we had the opportunity, thanks to additional funding from Saskatchewan Lotteries Trust Fund, to hire more artists and get the Culture Days message out much further. " Feedback from Laura Hale, the first Culture Days Animateur, included a recommendation that more animateurs were hired to spend time meeting with community leaders and offering support in interactive Culture Days activity planning.

"We were also able to offer additional sponsorship dollars this year," she adds. A total of $68,000 was provided to more than 30 Saskatchewan communities to help support their Culture Days initiatives. "This funding will not always be available, but it is hoped that it will help leverage additional community support for Culture Days into the future."

Saskatchewan people are encouraged to express their creative selves on Culture Days. "Participating in creative or cultural activities is good for individual health, it builds creative individuals who will go on to be the innovative thinkers of the future," adds Gilks.