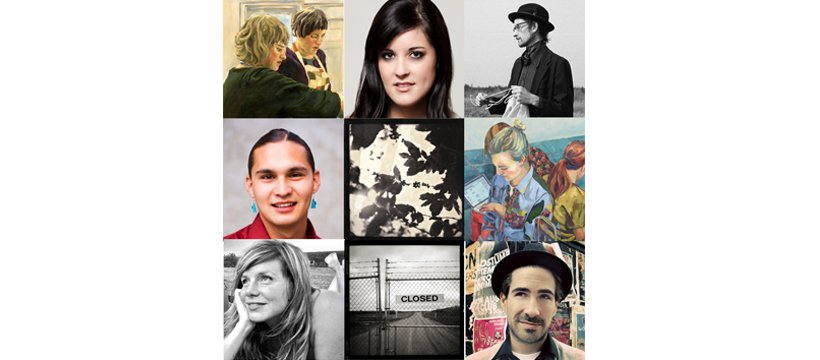 Emerging Saskatchewan artists: talent to watch
Young emerging artists, from a variety of disciplines, find ways to build their careers in Saskatchewan. Whether their talents are honed as part of their culture, through years of lessons and practice, or supported by various provincial cultural organizations, this new generation is eager to share their advice and experiences on advancing their careers with others. They may have different tactics, but they all seem to agree that Saskatchewan is a very exciting place to be an emerging artist.
Meara Conway (bottom left)
An avid interest in music, text and acting made becoming a singer a "no brainer" for Meara Conway. Her musical interests began with the cello. "I started playing cello when I was five, and I still remember being in total awe of the shiny, miniature cello that glistened when I first plucked it from its soft cloth case, "she says.
"I went to work teaching myself the theme song to the Teenage Mutant Ninja Turtles," she laughs, "and thus a prodigy was born."


Today, she is often referred to as an "opera singer" but some of her song repertoire, where she sings texts in Italian, German, Spanish, French or English, such as poems that have been set to music, is quite independent of any opera and includes some of her favourite material.


She is quick to thank others for their support of her work and her awards. Recently, Conway won the Regina Musical Club Competition and was the recipient of the Wallis Memorial Opera Award. "I have never been wanting for opportunities or support systems in my home province and city," adds Conway.


"The Saskatchewan Music Festival Association has been huge in this respect," she says. "Several generous scholarships have sustained my studies over the years, whether they were given in the name of Goodfellow, Kinsmen, Rose, Schumiatcher or Wallis - they all provided an awful lot of support."


Conway will be singing with both the Saskatoon Symphony, as well as the Regina Symphony in their upcoming 2012/13 seasons. Besides pursuing a career in classical singing, Conway is also studying law at McGill University in Montreal.

Callen John Diederichs (top right)
Callen John Diederichs, a self-taught Saskatchewan film-maker, urges other young emerging artists to find work that complements and facilitates one's practice. "Find a balance between sticking to your guns and taking and taking critique," he says. "It's not good to be clueless on the one hand, or too impressionable on the other. Don't be afraid to take advantage of the supports available in the community. Break the grand vision down into manageable parts and get to work."
Diederichs makes what could be called slightly experimental narrative films. He writes, produces, directs and acts and does whatever else is required to get a film made. "I started about five years ago while living in Montreal, watching a lot of movies and developing the delusion that I could do it myself," he says. He thought about going to film school, but was dissuaded by friends who had gone. Instead, he wrote a script and filmed it with the help of friends. "Since then," he says, "I've shot four more shorts and written a few feature scripts."
Diederichs says he likes the laid-back lifestyle that Saskatchewan offers compared to a bigger city. "It allows for more space to dream things up and actually work on them," he says. "As well, a smaller artistic community means that it's easier to find one's niche, and people are more likely to know each other and help each other out on projects."
Diederichs has a couple of film projects on the horizon, "I have a forthcoming sci-fi/western project that is set in Saskatchewan in the late 1800's, which references obscure place names, political and cultural circumstances. " I've written scenes just as an excuse to get great shots of the unique landscape, such as the Great Sandhills and the Crooked Forest," he says. He also recently received a production grant from the Saskatchewan Arts Board to work on a challenging film shot in one long take. However, his big dream is to get funding to shoot the feature version of this western. "I've been working on the script for about three years and it's ready to go."
Alana Moore (top left, centre right)
Alana Moore was born in Calgary in 1988 and continued to move around western Canada until she came to study Fine Arts at the University of Saskatchewan in Saskatoon. "I have explored many mediums, including drawing, painting, sculpture, photography and printmaking," she says, "Yet, I continuously return to painting, as my main focus and challenge. It is through painting that I am able to communicate what is uncertain."

After graduating, Moore moved to the small village of Bienfait, Saskatchewan in 2003. "It was a huge shock after growing up in Grand Prairie and Calgary," she says. "Moving to a small rural town in Saskatchewan shifted my perceptions and I suddenly became acquainted with myself without the distractions, friends, and places to go I found in bigger cities. I was stuck with my thoughts, the endless gravel roads and the railroad tracks. I gained an appreciation for simplicity and silence in contrast to the often overwhelming aspects of a large city. I definitely see that reflected in my art."

She encourages emerging artists to "take risks and make foolish things". "Whenever I have an idea that is ridiculous, it's easy to dismiss it," she says. "but when I actually follow through with these ideas they teach me a lot about myself and painting." And, as an advocate of the quiet life of rural Saskatchewan, she also advises artists to, "Simply spend a lot of time in your studio without distractions. I think it is necessary to have a place in solitude to get good work done."

Moore has a few exciting projects on the go at the moment. While completing her Fine Arts degree, she is continuing work on a series of oil paintings that deal with individual and community relationships with social media devices in contrast to solitude. "I am interested in finding a balance between figuration and abstraction through layering combination of images," she says. "I have also been playing with making short films of people interacting with technology."
Greg Ochitwa (bottom right)
Greg Ochitwa, a Regina-based actor, writer and rapper, says, "Drown yourself in experiences. Go to everything: plays, movies, hockey games, concerts, poetry readings, and dance creations. See everything. Talk to strangers. And, never stop creating!"

Ochitwa is part of the cast of the hip-hop musical Cope , which just completed a successful run at The Globe Theatre in Regina and is now moving on to Live Five Theatre in Saskatoon in Spring 2012. He encourages young artists to experience as much as they can and keep creating. "At the end of the day as an artist, you'll stay sane and happy as long as you keep creating," he says.
He grew up in Balgonie, SK and became interested in acting at an early age. "I've been up on stages performing since I was three, and it wasn't because my parents were pushing me up there. I just loved to perform," says Ochitwa.
"The main benefit of being an artist is that I get to create my art at home in Saskatchewan. At the moment, our province is bursting at the seams with an incredible group of up and coming artists who seem to be feeding off one another, pushing each other. It's a healthy competitiveness that is lifting the art to some really exciting new places."

It is the exciting artistic environment in Saskatchewan that drew Greg back home after spending 2008 and 2009 in Toronto, "I like being based out of Saskatchewan," he says. "Places like The Globe Theatre are providing young artists, such as me, with the most amazing opportunities to create art. I really feel like it is a defining time for Saskatchewan artists right now. I am excited to be here to contribute and be a part of the magic."
Jacob Pratt (centre left)
Pratt, a multidisciplinary artist from Cote First Nation, is an accomplished musician, dancer, choreographer, beader, model, video artists, as well as an aspiring actor. He believes making connections is an important part of building a career in the arts.
"You have to work hard on your art, but also be aware that there is more to being a good artist than creating your art. Do your research and make connections with the right organizations and people. Those connections will help you become the artist you want to be." he says.
He also credits his Dakota/Saulteaux background for his ongoing interest and engagement in an artistic career. "First Nations people have always been a culture of artists," says Pratt, "Being raised in a traditional First Nations family, I became an artist without knowing it. I started as a young dancer and as I got older I began to pick up new skills that complemented my dance." He is also in the process of completing his administration degree at the First Nations University of Canada.
Recently, Pratt started a performance company called
Wambdi Dance
and is working on a multimedia, theatre dance performance. "I don't believe anything quite like it has been done before and my team and I are very excited about it," he says. He is working towards his putting out his next CD and organizing a couple of cross country performance tours. Visit
www.jacobpratt.ca
Barbara Reimer (centre, bottom centre)
Barbara Reimer isn't really certain how she became interested in the arts. "A 'career' in the arts is still a sort of foreign concept to me. Yet, art and specifically art photography always seemed to be the thing that I would return to," she says. "Sometimes I don't think I really chose to be an artist… it just sort of happened."
A Saskatoon artist, Reimer is an experimental photographer who studied at the University of Saskatchewan receiving a BA in Studio Arts 1996 and BFA in 2008, as well as spending a year studying at Ryerson's School of the Image Arts (1998-99). She is currently working on a project entitled "Finding a Green Photo" which begins a complex argument about sustainability, community, history and site through the images of landscape. Through this project she has found herself photographing in garbage dumps, as well as at tourist- and known- ecological sites and communities, in both first and third world conditions and developing her photos on-site where possible.
"I am working with a non-toxic coffee process for developing film and paper while researching an ecologically responsible photograph, both in process and content." explains Reimer. "I use homemade and refurbished old cameras and dated film discarded by other photographers. I have been experimenting with on-site developing, historical processes and, most recently, creating digital negatives.
She received an Independent Artists Grant in the spring of 2010 from the Saskatchewan Arts Board for the
Finding a Green Photo
project, which assisted her in travelling to Nicaragua to research and photograph the landscapes of the communities of people living in and out of the garbage dumps. "I was able to start my project in a significant way," she says, that, "I wouldn't have been able to do on my own. Having organizations that support emerging artists in this way is very important to the arts in Saskatchewan." For more on her work visit,
http://reimereason.ca
Ashley Tuchscherer (top centre)
Ashley Tuchscherer's main influence for her art comes from the tattered toys from her childhood. "They are the tangible pieces of my past that hold memory and meaning. They become a stand-in for me in my paintings and drawings," says Tuchscherer.
"I have been passionate about the arts since I was very young, so it was a natural choice for me to enroll in the BFA Visual Arts Program at the University of Regina in 2005 directly out of high school," explains Tuchscherer. "My art practice consists of drawing and painting, and investigates our connection with our childhood as adults."
She is familiar with the multi-tasking required by artist who must balance school, work and time for creating art. "We all have jobs that can sometimes interfere with our creation time," she says, advising young artists to not forget to take the time to create. "I try to always keep my artistic mind flowing by having at least one painting in progress." She also encourages other young artists to keep their eyes open for Calls for emerging artist submissions often found in various local and provincial art publications.
Although Tuchscherer will always consider Saskatchewan her home and believes it is a great place to flourish as a young, emerging artist, she says, "I think it would be great to have the experience of living and working in one of Canada's largest art centres." This is mainly due to her work a scenic painter in the local film and television industry.
To learn more about Ashley,
click here
.