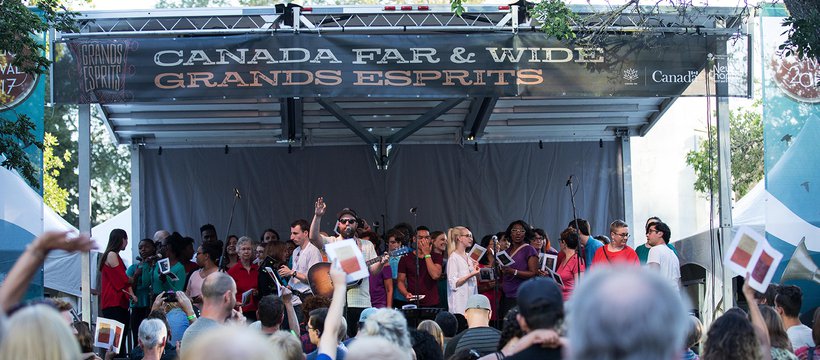 Examining Canada's Musical Landscape
In this issue

Engage - Volume 8, Issue 1 Spring 2018
To Sandra Butel, CEO and artistic director, Regina Folk Festival (RFF), Canada's 150th birthday was a perfect opportunity to examine the country's past, present and future through a musical lens.
The result was Canada Far & Wide: Grands Esprits – a joint initiative with four other folk festivals, which that saw each event add an extra day of music featuring free performances by a diverse roster of artists covering classic Canadian songs.
"I worked with my counterparts from the other festivals to create a songbook that we felt truly reflected Canada," says Butel. "And a key piece for us was to ensure that there was adequate diversity in the songbook, so that we could look at the history, including some of the more unsightly history, of our country."
The RFF's Canada Far & Wide Regina concert took place Thursday, August 10 (the day before RFF officially kicked-off) and featured Saskatchewan artists such as Eekwol and Blake Berglund, as well as a diverse array of artists from across Canada like Vox Sambou, Cris Derksen and Mélisande. Interpretations of quintessential standards by well-known and well-loved Canadian legends Leonard Cohen, Joni Mitchell and Buffy Sainte-Marie also made an appearance on stage.
Butel and her colleagues took care to ensure that the line-up of artists, and the songbook, was respectful, genuine and inclusive. "One of the messages that really resonated with me was from the speech [Federal Minister of Public Safety] Ralph Goodale delivered at the funding announcement, when he referred to Canada as "a work in progress".

"This was the shared sentiment as we were brainstorming the idea," she continues. "We believed that we could address that idea through the power of music in a folk festival setting, which is really all about community and harmony, and that perhaps we could inspire each other, as Canadians, to do better in the future."
Approximately 2,000 people attended the special concert in Regina's downtown Victoria Park.
The Regina Folk Festival was one of 19 Saskatchewan organizations that received Canada 150 Funds from Canadian Heritage.