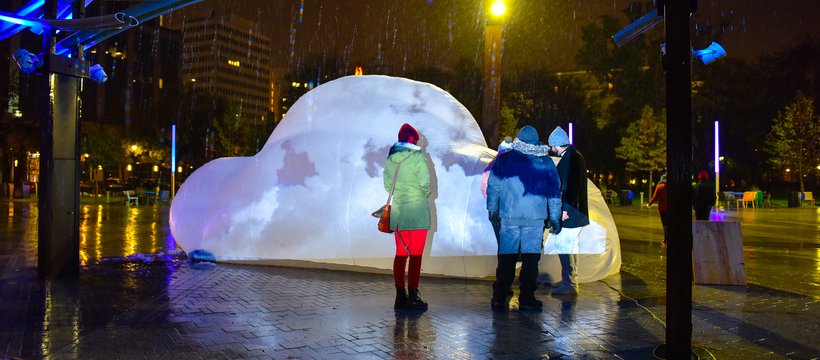 Finding a Connection to the Land Through Art
Arts enthusiasts had the opportunity to connect with the land during Regina's annual Nuit Blanche. A few snowflakes drifting down didn't keep people from enjoying art under the stars.
This is the second year Regina has hosted its very own Nuit Blanche – a free, outdoor, nighttime arts festival showcasing art installations throughout downtown Regina. The festival was held on September 28, as part of the Culture Days celebrations.
Michelle Harazny, artistic director of Nuit Blanche Regina, and her team of three curators, who each came from a different part of the world before settling in Regina, chose this year's festival theme: Reflections of the Land. Harazny says they were interested in the human connection to place and the stories that emerge as people move between places and spaces.
"For me personally, I like to think about public spaces and ways that they can be enhanced. For example, drawing attention to a building's exterior wall or a back alley. The artists highlighted public space downtown and engaged the public through their artwork," she explains.
All of the participating artists reflected the theme through their work. Estelle Bonetto projected scenes from Regina's urban landscapes through a bicycle's rearview mirror as a method for the audience to connect with a specific place. Other artists, such as Sarah Cummings Truskowski, chose to reflect on the land and environment. Truskowski created an illuminated installation out of plastic waste to bring attention to human dependence on plastic and its impact on the land.
According to Harazny, the audience that evening really embraced the theme and found the artworks inspiring. "One attendee said that everyone can relate to the theme in some way, and it's important to think about how we are all connected through land," she notes. "Respecting the land and expressing that relationship through the arts is very special."
Harazny says her team is already starting to plan next year's Nuit Blanche Regina and are reaching out to other Nuit Blanche organizers in other cities to make the future version even better.
"We are so grateful to SaskCulture and Saskatchewan Lotteries for supporting us through Culture Days funding," she says while adding that SaskCulture also helped the festival reach wider audiences by advertising Nuit Blanche Regina on their social media channels.