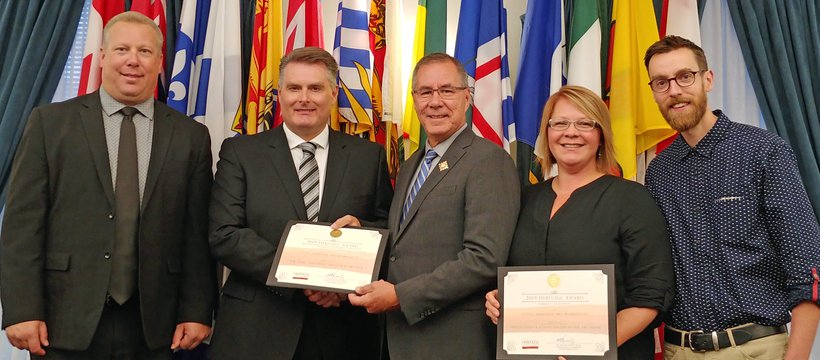 Building Community and Sharing Culture Through Art
In this issue

Engage - Volume 10, Issue 1, Winter 2019
An award-winning artist program, developed and delivered by local artists with an interest in living heritage, recently guided one Saskatchewan community explore its unique identity.
Geoff and Connie Philips are an entrepreneurial couple who are both artists. They chose to move to Maple Creek and started an art business known as The Art House, with a studio, a gallery and a classroom.
Together with Royce Pettyjohn, an historian who serves as a board member of the South West Saskatchewan Old Timers' Museum & Archive, they proposed a series of living heritage workshops and received funding support from the Artists in Communities Grant, delivered by the Saskatchewan Arts Board, with funding from SaskCulture thanks to Saskatchewan Lotteries.
They planned nine Living Heritage Art Workshops to run once a month, from September 2018 to June 2019. The workshops coincided with the school year, since students would be targeted participants, along with members of the general public.
"This type of project was new to us, and it was exciting to innovate and plan each workshop with fresh ideas to engage our various audiences," says Connie. "Each project evolved: the museum suggested heritage themes to us, we developed the art workshops to link to each theme, and then each workshop came to life in its own way through the participants."
The heritage themes the selected includes the Human Connection to the Natural Environment of the Cypress Hills, Living Heritage of Nekaneet First Nation, and the Living Heritage of the Cypress Hills Métis, among others.
Geoff Phillips found working with Pettyjohn and the participants to be an educational process, saying "Everyone involved learned so much. Participants studied the artifacts and archival material identified by the museum, and listened to stories about the heritage theme to be explored. Then, the participants shared their own stories and created art with us." At some workshops, the couple guided the art process; however, some workshops also involved other artists or cultural practitioners.
The community's response was enthusiastic; local newspapers and social media provided generous coverage. "The Museum had been struggling to get people through the doors. But heritage doesn't exist only inside of museum walls: it's all around us," says Pettyjohn. "It's alive -- in our language, customs, and our buildings -- it's the identity of the community. The workshops helped us reach a much broader audience than usual, and it was gratifying to have so much enthusiastic participation."
"The cultural educational opportunities for schoolchildren to meet and hear stories, learn traditional skills firsthand from Elders and others in their own community: our workshops became something local people looked forward to each month. They provided opportunities for people from different parts of the greater community to come together, share stories, and talk about what community means to them. It was positive for everyone involved."
Pettyjohn adds that the workshop series has led to new events for the community to celebrate together: "As a result of our second workshop on First Nations cultural heritage, the museum and Elders from Nekaneet First Nation have agreed to start a twice annual 'Feeding the Spirits' feast to commemorate the original users and artisans of the Indigenous artifacts entrusted to the museum."
In addition to community recognition, the workshop series received accolades outside of Maple Creek. In October 2019, the series received the Lieutenant-Governor of Saskatchewan Heritage Award for Community Development. Also in October, the Series was part of the reason the National Trust for Canada awarded its prestigious 2019 Prince of Wales Prize to the Town of Maple Creek, citing its "long track record of effective revitalization and demonstrated results in bringing heritage to life through exemplary municipal heritage conservation."