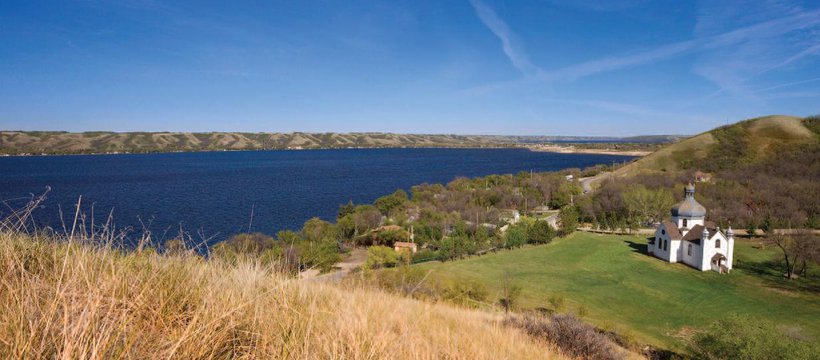 Four lakes, four seasons, five communities for culture
"I have always been interested in revitalizing our main street," says Elaine Hanson, town councillor and business owner, Fort Qu'Appelle. "We tend to use the beauty of the Qu'Appelle Valley as an excuse to do very little to improve the aesthetics of the town."

Following a 2011Municipal Cultural Planning forum featuring cultural planning expert Gord Hume, held in partnership with the Ministry of Tourism, Parks, Culture and Sport and SaskCulture, Hanson was pleased to hear from Ross Keith that other communities in her area were also interested in the concept of community cultural planning. SaskCulture's newly launched grant, the Municipal Cultural Engagement and Planning Grant, served as an impetus to bring communities together to build a strategy. Keith, a Regina business owner, heritage leader and Qu'Appelle area property owner, helped pull the communities together.

More and more communities are recognizing how their cultural assets can contribute to the increased quality of life of their residents, attracting and retaining residents, attracting new businesses, as well as providing numerous economic and social benefits. According to municipal cultural planning expert Gord Hume, "The link between municipal cultural planning and community economic prosperity is what drives large and small communities in Canada towards a new economic model."

According to Hanson, there is lots of cultural activity in the area. "Everybody has their own enterprises. There needed to be a catalyst to help organize people better." Through this type of planning, "we could look inward and determine our common interests and create an image and identity for our communities and for our area. It helped us work together towards the same goal."

Fort Qu'Appelle has a long history as a summer gathering place for many First Nations bands that travelled through the area. It was at Fort Qu'Appelle that Treaty 4 was signed by eight bands and the Government of Canada, on behalf of the growing country. Today, the original Hudson Bay Building, built 1897, and the first Home Hardware, built 1910, (owned by Hanson's family) are both still part of the community.

"The community has an active arts community and several designated heritage sites, including the old Central School, which turned 100 years old this year," explains Hanson. "A plan is underway to convert this school into the Valley Centre for the Arts, with studio space, retail gallery, teaching space and even a residential space for a visiting artist." The community's desire to preserve their heritage and celebrate their multicultural community is evident. Hanson has found her community very receptive and had very little trouble finding the funds to match the SaskCulture grant.

Besides Fort Qu'Appelle, the four other communities –Wolseley, Katepwa, Indian Head and the Town of Qu'Appelle - have recognized cultural planning could be beneficial to their entire community plans. These administrators understand that culture is one of the four pillars of a sustainable community, along with social, economic and environmental, and are eager to work together to develop a regional cultural plan.

Wolseley was established as a railroad town in 1882 and is one of the few communities that have managed to preserve some of Saskatchewan's oldest colonial heritage. It is home to the oldest standing courthouse in the province, as well as the well-known Wolseley Opera House built by settlers back in 1906, now serving as its Town Hall. Along with a swinging bridge first built in 1905, but reconstructed twice due to weather, it has the oldest public library in Saskatchewan, a Twi-lite Drive Inn and is home to the first location of Beaver Lumber in Canada, which is still in operation.

Having a backyard full of history has cultivated many arts and cultural interests in the community, including Wolseley Community Players, dance, blues band, a writers group and The Gallery which exhibits many local artists from the area. According to Dennis Fjestad, mayor of Wolseley, "a community that does not recognize the arts and culture is a community without a spirit or soul."

Katepwa is located on one of the four lakes in the Qu'Appelle Valley. The original settlers built the All Saints Anglican Church in 1886 and a community built around it.

The valley formed more than 14,000 years ago from retreating glaciers and left behind the perfect retreat for recreation and relaxation. The native peoples inhabited the land for the past 11,000 years, with settlers moving into the region in the mid-1800s.

The Catholic missions in the area were established by Father Taché and Father Lebret back in 1865 and it grew into a Métis settlement by 1880. Today, Katepwa is a thriving resort community around the lake, featuring cultural attractions including bird-watching, Fort Ellis Historical site, Programming in the Park, Heritage Hiking Trails, and more.

Besides many other cultural assets, Indian Head is well known in the cultural community for the reconstruction of the Bell Barn – a round barn originally built in 1882, which was moved and reconstructed in the area in 2010. The Bell Barn was Saskatchewan's first round barn, built as part of an experiment supported by the federal government under Sir John A. MacDonald.

The community of Indian Head has embraced the interest in the Bell Barn. It has grown to see culture as a way of life and has many organizations to support resident's interest including Rural Sports Hall of Fame, museum society, heritage club, Prairie Theatre, School of Dance, Heritage Tour, Band Parents Association and many creative residents.

As with all the other communities, the Town of Qu'Appelle sees the Municipal Cultural Planning as an opportunity to help rejuvenate its main street and build a community that is attractive to new residents and youth. They along with corporate partners, such as the Moose Mountain Bus Lines, are hoping that the interest in culture in the area, both built and natural, will lead to new and exciting tourism and economic opportunities.

The Municipal Cultural Engagement and Planning Grant is offered by SaskCulture thanks to funding from Saskatchewan Lotteries Trust Fund for Sport, Culture and Recreation.