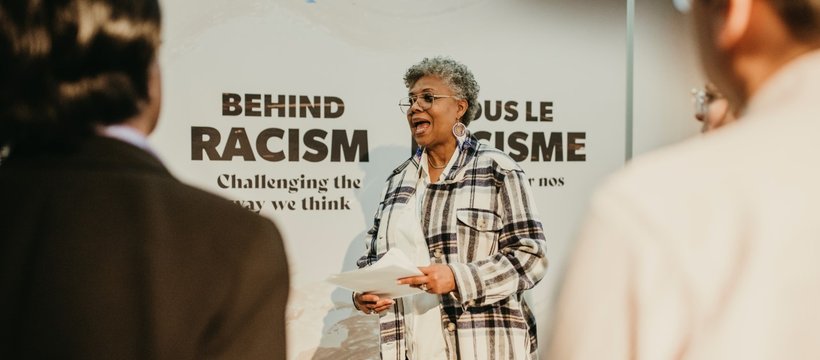 Increasing awareness of equity and inclusion: New relationships, wider discussions help eliminate racism and oppression
By connecting with others from different cultures, a new program is widening the discussion on racism, oppression and colonialism in order to build understanding and change attitudes.
The Multicultural Council of Saskatchewan (MCOS) launched the Intercultural Connections and Antiracism Engagement (ICARE) project this past year to bridge the gaps in conversations among the many groups and individuals working to eliminate racism and oppression. It includes discussing and implementing ways to change colonial thinking.
Risa Naytowhow, ICARE coordinator, MCOS, says, "It's important to have these conversations, as they also enrich diversity, build relationships in our communities and bring those communities together instead of having separate conversations." She says that bringing together Indigenous peoples, newcomers, established immigrants, settler organizations and other community members creates an "intersectional" and "decolonial" approach.
This is also where people from different cultures and backgrounds can share common experiences, she says, "Intersectionality builds a bridge where people can discuss common experiences of oppression." For example, women across all cultures have experienced certain stereotypes, such as being called bossy when they are being assertive.
Since beginning in January, Naytowhow has coordinated several different initiatives. She set up a virtual monthly book club, highlighting books from different cultures each month, focused on the theme of anti-racism and decolonization.
She also facilitated workshops as part of Behind the Racism: Challenging the Way We Think, an exhibition held at the Saskatchewan Science Centre in March. The workshop discussions explore why some groups report hate incidents and others don't, assumptions and the impact of other people's assumptions.
Along with setting up two new advisory committees, she hired facilitators from La Ronge, Prince Albert and Regina as part of the ICARE project to help her work within their communities to identify partnership opportunities for intracultural and anti-racism activities.
All of the initiatives so far aim to eliminate discrimination, racism and prejudice, by building relationships and giving people a voice to have those hard conversations in a respectful way. Naytowhow says, when people feel they can talk about what they have experienced and why those experiences happened, it deepens understanding of racism and impacts of colonialism.
MCoS, which receives funding from Sask Lotteries Trust Fund, is committed to ICARE and carrying on these discussions. The ICARE project is funded through the Community Support, Multiculturalism, and Anti-Racism Initiatives Program, offered nationally through Canadian Heritage.
Naytowhow explains that, "It's good to have these conversations to promote equity and diversity and to dismantle the colonial systems. It can be difficult work, but it creates critical thinkers and better environments."