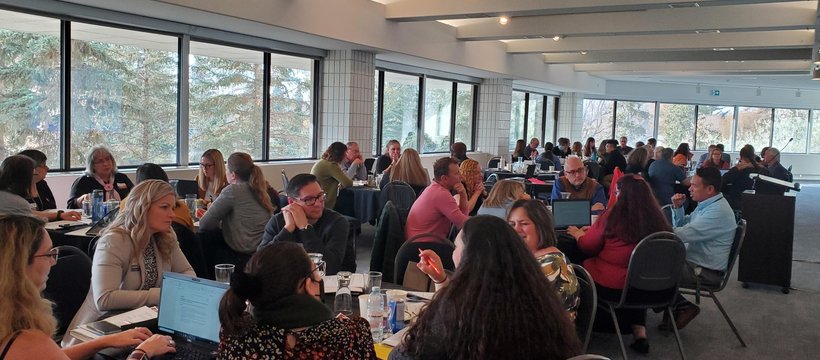 Increasing effectiveness and sustainability of funding: Funding Program Renewal Project underway
Determining how millions of dollars from Sask Lotteries proceeds will support arts, heritage and cultural activities and experiences around the province is no easy task. It involves listening, learning and being adaptable to the needs of Saskatchewan people.
With this in mind, SaskCulture has made a good start on its long-term review and renewal process referred to as the Funding Program Renewal Project. Along with ensuring the effectiveness and sustainability of SaskCulture's funding delivery systems, this project seeks to advance and support Inclusion, Diversity, Equity and Access (IDEA), in SaskCulture's own programs and services, as well as throughout the province's cultural eco-system. It involves research, evaluation, analysis, and a lot of listening and learning to come up with recommendations that will support the community going forward.
"Based on its strategic directions developed in 2019, the SaskCulture Board wanted to ensure that the funding model was sustainable and adaptive to meet changing needs. More specifically, it would support relevant cultural programming and Saskatchewan's ever-growing diversity," explains Dean Kush, CEO, SaskCulture. "Changes over the years, including demographics and Constitutional changes that affirmed the organization's commitment to Truth and Reconciliation, have highlighted the need to improve reach, access and involvement of currently underserved, equity-deserving peoples."
Other than small changes to direction and delivery, SaskCulture's funding model has not changed since the last funding review in 2008. Since then, the needs of communities have changed, including an increased priority to ensure that funds better support inclusion, diversity, equity and accessibility (IDEA).
"It's time for us all to commit to change that helps ensure that many equity-deserving groups are included and have access to quality cultural activity and experiences in the province," says Kush. "We will evaluate what is happening right now, what these groups would like to see, and how we can adjust funding to ensure that all people have opportunities to participate." Equity-deserving groups identified in this process include First Nations and Métis peoples, Black people and People of Colour (BPOC), persons new to Canada, 2SLGBTQIA+ peoples, persons with disabilities, and people living in remote areas, such as northern Saskatchewan.
The Funding Program Renewal Project will go through three phases, which includes: Phase 1 research and evaluation, Phase 2 consultation, and Phase 3 analysis and recommendations. Over the past year, Phase 1 of the Project included a research and literature review, completed by Praxis Consulting, which provided a better understanding on leading practices in equity funding in other parts of Canada and beyond, as well as getting a better understanding of inclusive language. A summary of Leading Equity Practices, gathered in this review, is available on SaskCulture's website.
Work also began on an Evaluation Framework that will establish a values-based approach for measuring progress towards advancing and supporting inclusion, diversity, equity and accessibility in SaskCulture's funding programs, as well as guiding decision-making. Kush notes that this work, "will help us all gain a better understanding of how cultural communities can become more inclusive, equitable and accessible and how the work of SaskCulture and the cultural network can support a greater diversity of people." Different pilot projects will introduce new evaluation models, tools and training, which will be designed to help the cultural community as a whole.
"By mid-2023, the community can expect to hear more about a consultation process where they can provide their ideas on how funding needs have changed and future distribution options."
Along with connecting to the many existing stakeholders throughout the cultural network, consultation will be a great opportunity to form new and diverse partnerships with equity-deserving groups. "We look forward to connecting with everyone, including others who are not normally included, to learn more about how we can better serve Saskatchewan," says Kush.
"The funding program renewal process includes extensive research, assessment, consultation with stakeholders and a lot of thought – it is not something that will be completed quickly," he adds. The renewal process includes a review of all funding programs including Annual Global Funding and Creative Kids.
The community can look forward to a number of recommendations for cultural funding coming out of this Project that will help meet the needs of Saskatchewan residents into the future.