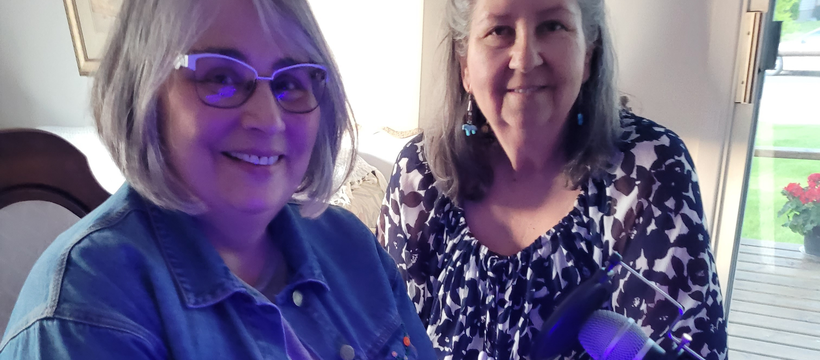 Increasing preservation of cultural teachings: Podcast project shares Métis values and lifestyles
For Clare McNab preserving the history of the Métis people from Southwest Saskatchewan is a priority. This past year, she coordinated an innovative podcast project to show how Métis values and lifestyles of the past are still present today.
The Living Culture Podcast Project, organized through the Prairie Dog Métis Local 123, recorded and broadcasted a series of podcasts in January 2023, featuring interviews with local Métis peoples sharing their stories and perspectives on Métis beliefs and traditions. The Project saw 15 Métis descendants from the Lac Pelletier area interviewed and produced into podcasts. Two gatherings also took place in the area, reconnecting descendants and their families.
"There's been a few books written, but really there's been very little documented about the history of the Métis people in southwest Saskatchewan," says McNab, executive assistant to the President, Prairie Dog Local 123. "I wanted to show who Métis people are." To help support these efforts, she accessed funding from the Métis Cultural Development Fund, administered through Gabriel Dumont Institute, thanks to funding from the Sask Lotteries Trust Fund.
From their current locations to chosen professions and life experiences, the diversity of Métis peoples from this area is showcased throughout the interviews. According to McNab, a number of the interviewees talked about their journey to finding more information about their family histories. All spoke about their pride in being Métis and the practices they are passing along to their children and grandchildren, she noted.
The focus of the podcast is on the positive elements of the Métis culture as opposed to intergenerational trauma. "Instead of talking about what isn't working for us," she says. "I wanted to focus on what is really working in the Métis culture, how times have changed and how people are doing today."
One of the successes of the podcast, she says, is how the podcasts help to break down stereotypes of Métis peoples, showing their diversity. The storytelling also shares how so many of the interviewees have achieved personal and professional success.
Since launching the podcast, over 500 people have listened to the interviews. McNab hopes to apply for more funding to interview even more descendants from the area.
McNab says she enjoyed being a part of the project and learned a lot from the descendants, including the resilience of Métis peoples.