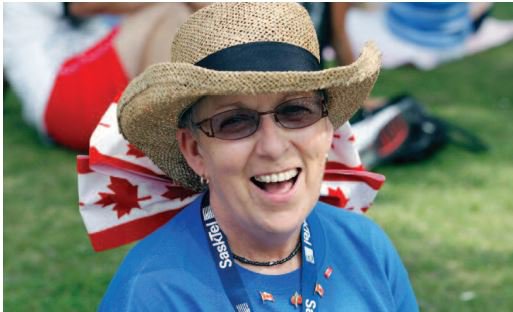 It's Not Baroque and She's Bach this Year: Meet Della Beal
In this issue

Engage - Volume 5, Issue 2, Winter - Spring 2015
While you might think that she volunteers with the music festival because of her love of music, Beal's real love is the people.
Felechia Brodie: You've volunteered with many other events and organizations. Why did the Saskatchewan Jazz Festival stick?
Della Beal: I guess because it lasts more than just a few days. It takes a lot of work throughout the year. After the first two years of volunteering, I became part of the small volunteer committee as the volunteer coordinator. This year we're back to just two people on that committee.
I go to very few of the concerts or shows. I'm generally busy throughout the festival. I see people who perform in the Bessborough Gardens because our office is in the hotel. I have seen many performers on their way to being big stars, like Diana Krall, Macy Gray and Nikki Yanofsky. And I've also seen many talented local musicians that have played on the big stages and famous elderly musicians near the end of their careers.
The Jazz Festival attracts people from all over the world. It's an important event for the city and the province. The musicians who perform here cannot believe that volunteers and only four staff members put on a festival of this size!
FB: What does volunteering bring to your life?
Della Beal: It gives me a different perspective from my professional life where I worked in the medical field for 40 years. Music draws people from all walks of life and of every age. People volunteer and you have no idea what they do outside of here – they could be a student or a judge. Volunteering keeps you young and motivated.
Working with people isn't always easy of course, but I guess I've learned how to solve problems.
FB: How do you solve problems?
Della Beal: You listen and you think, "what is going to correct this?" Listening is really important.
FB: What would you say to people to encourage them to volunteer?
Della Beal: Give it a try! You don't have to continue if you don't like it. It may broaden your perspective and you'll meet new people. Everyone volunteering is doing an important job. If you're unemployed or between jobs, volunteering can be a stepping stone to job opportunities.
FB: What are your favourite places in Saskatchewan and things to do?
Della Beal: One of my favourite places is Wanuskewin. When you're out on the paths there, looking out towards both bends in the river it's like time drops away. It's a very calming place. I also like Temple Gardens Mineral Spa in Moose Jaw, the Berry Barn outside of Saskatoon, Martens Lake, Wakaw Lake, the Western Development Museums, the Fort in Battleford, Diefenbaker Centre, the Forestry Farm Park, Table Mountain and Blackstrap.
This will be Della Beal's twenty-fourth year volunteering with the SaskTel Saskatchewan Jazz Festival. In 2003, she was selected as the recipient of the Volunteer Saskatoon Award in Arts.