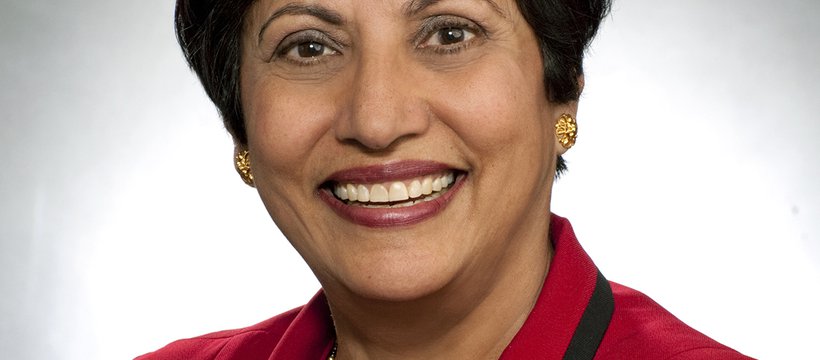 Jo Custead Enjoys Making a Difference
In this issue

Engage - Volume 5, Issue 1, Fall 2014
Jo Custead volunteers with a passion. Her volunteering experience has included organizations such as the Persephone Theatre, SaskCulture, Saskatoon Symphony Orchestra and the YWCA Saskatoon. She emigrated to Canada as a teenager in 1967, but she was volunteering even before that, when her family lived in Kenya.
Felechia Brodie: Why do you volunteer? How did you get started?
Jo Custead: Volunteering is very personal for me. I like meeting people. I feel good. I feel fulfilled. Volunteering is a big part of my emotional and spiritual growth. It's a chance to be part of something I believe in and care about.
My family has a big streak of volunteerism. We were volunteering in Kenya before we moved to Canada. In 1967, we emigrated from Lake Victoria, Kenya, to Canada and I started Grade Nine on December 1st at City Park Collegiate in Saskatoon. We moved from the shores of a tropical lake to a Saskatchewan winter!
FB: How does your background influence your volunteer work?
Jo Custead: Being an immigrant is a big influence on my volunteering. I relate to the difficulties that people are going through and I want to help them.
The decades I grew up in also influenced me. I'm part of that Woodstock generation. In the sixties and seventies we became interested in human rights, women's rights, racial equality and Tools for Peace.
FB: What impact has volunteering had on your life?
Jo Custead: I have a quote at home that reads, "Happiness is not something ready-made. It comes from your own actions." It's from the Dalai Lama and volunteering is my action. When I deliver Meals on Wheels, I've done something to help someone. It brings tears to my eyes sometimes. It's what makes me alive.
FB: Why do we need volunteers?
Jo Custead: Snowflakes! When they are alone, they melt, but together, they are traffic-stoppers! It's the same with people. Together we can do anything.
Organizations don't have the resources they need to achieve what they need to do. They need more snowflakes!
FB: What is the importance of culture to you?
Jo Custead: Culture is your values, the values that guide you. I'm 100 percent East Indian with all the celebrations and storytelling of Hindu culture. The values of my culture do not change: honesty, truth and compassion for others. These values are the same in every culture. They are our humanity. At the end of the day, that's who we are.
FB: What would you say to others to encourage them to volunteer?
Jo Custead: Tell people, you get way more out of volunteering than you give. You'll feel so good, knowing you made a difference. It's so satisfying and enriching.
Jyotsna (Jo) Custead serves on Persephone Theatre's Board of Directors and as a volunteer adjudicator for SaskCulture. She has been President of YWCA Saskatoon and Treasurer of YWCA Canada. She served as President of the India Canada Cultural Association and has volunteered with the Hindu Society of Saskatchewan, Saskatoon Symphony Orchestra, Children's International Summer Villages, Consumer's Association of Canada, the Saskatoon Marathon, and has helped many local celebrations, including the City of Saskatoon's Citizens' Centennial Committee. Jo is the Past Chair for United Way Saskatoon and area and has served on the Heritage Saskatchewan Board of Directors where she chaired the Audit Committee.