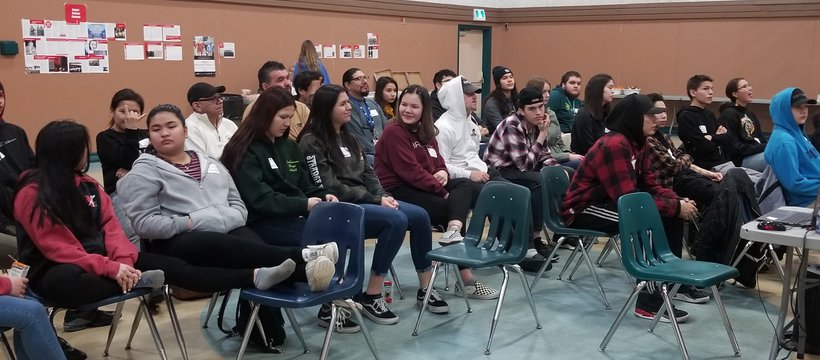 Keeping Up the Conversation About Eliminating Racism
This past year will not only be known for COVID-19, it will be remembered as a year when systemic racism sparked protests around the world. Awareness of the murder of George Floyd in the US and growing blame and hate crimes against people of Asian heritage, to situations closer to home, such as the alarming suicide rate of Indigenous youth in Saskatchewan's North, led to a growing concern about the human costs of racism.
As conversations started to heat up, Multicultural Council of Saskatchewan (MCoS), which receives annual funding from Sask Lotteries, and its network of trained facilitators, stepped up to the demand for anti-racism education with a variety of sessions, including a five-part lunch and learn series for members, and a series of engaging youth leadership workshops.
"There is often reluctance to discuss racism," says Rhonda Rosenberg, executive director, MCoS. However, "after the widely seen video of the murder of George Floyd, many people and organizations were interested in beginning their learning about anti-racism."
When its annual anti-racism public awareness campaign was disrupted by the pandemic, MCoS leveraged online platforms and videos on systemic racism to educate the public. "As we increased our familiarity with online platforms, we found that we were able to offer interactive educational sessions," she explains. "By using tools such as breakout rooms, polls, Mentimeter, jam boards and Kahoot, we were able to offer engaging opportunities to learn and share as we explored anti-racism together."
The lunch and learns included an introduction to anti-racism and anti-oppression concepts, Indigenous perspectives on anti-racism work, and an opportunity to commit to action.
The online youth leadership workshops were a major highlight for MCoS. Normally held in-person in locations around the province, the online workshops were still able to provide opportunities for high school students to learn about racism and the impact of colonial history on minority populations. This past year, over 200 students attended online, and prior to pandemic restrictions MCoS had held sessions in Melville, Regina and La Ronge. The online learning increased access without the costs of travel and created possibilities of connecting people, in this case teens, from many different backgrounds.
"Young people are able to see and learn to analyze injustices in their communities and world. The workshops offer an engaging and interactive opportunity to supplement classroom learning," Rosenberg explains. "Exploring anti-racism and anti-oppression provides participants with tools to stand up for themselves and others, to build relationships across differences, to cultivate safe and respectful communities, and to care for their mental wellness."
Although interest does seem to grow when high profile events bring issues into the news, such as Tristen Durocher's walk from Air Ronge to Regina and camp at the Legislature to raise awareness of suicide among Indigenous youth. The work to educate continues throughout the year. Rosenberg says there is still "far more work to be done" but it is "encouraging that the conversation is more out in the open now."