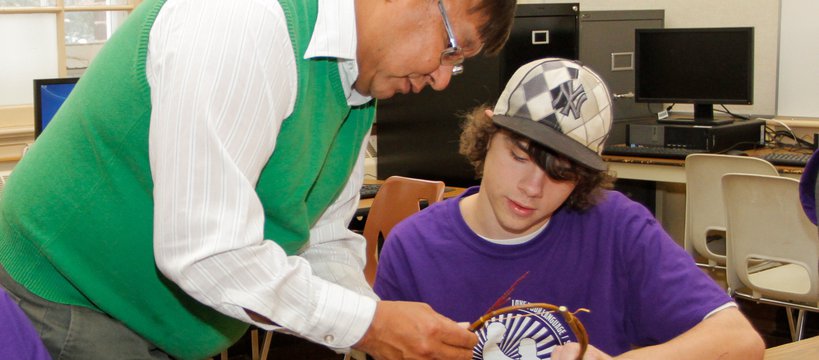 Language festival promotes cultural pride
In this issue

Engage - Volume 4, Issue 2, Winter 2014
"Love Your Language, Speak with Pride."

This was the message bestowed on over 450 First Nations students at the province's first-ever Indigenous language Festival.

"It's all about helping the students see the strength and the beauty of Indigenous culture," says Jennifer Hingley, coordinator for First Nations and Métis education, Saskatoon Public schools. Held at City Park Collegiate in Saskatoon on October 29, 2012. The Festival catered to students from kindergarten through grade five, and focused on the Indigenous languages of Saskatchewan: Cree, Dakota, Nakawe or Salteaux, and Métis.

The Festival, which received a SaskCulture Aboriginal Arts and Cultural leadership Grant, was a collaborative effort between Saskatoon's Public schools, Greater Saskatoon's Catholic schools and the Saskatoon Tribal Council, explains Cornelia Laliberte, coordinator, First Nations and Métis education, Greater Saskatoon Catholic schools.

Language and culture is a high priority for all three institutions.

Lori McAuley, program coordinator, First Nations students success, for the Saskatoon Tribal Council, says, "The main theme of the festival was self-esteem. We wanted to celebrate and showcase our language and traditions to the students, so they could feel good about themselves."

Besides the celebration of language, Hingley says the festival addressed an important educational principle: learning together. "We wanted to do something for our urban students," she says. "[The festival was an opportunity] to bring rural First Nations students in to learn shoulder to shoulder with the urban students."

The festival featured puppets and storytelling, songs and singing, jigging, and powwow dancing. It also featured elders sharing stories, sash weaving, a syllabics session, and discussions about First Nations history.

"Our elders sat at the front of the stage and they were beaming," says McAuley. "They said this type of event needs to happen all the time."

According to Albert Scott, language and culture coordinator, Saskatoon education unit, Saskatoon Tribal Council, the festival is for the children. "We want to get them away from the gangs and negative influences that are out there," he adds. "It's all about breaking barriers down and uniting everyone for the benefit of the community's children."

Hingley adds that we need to celebrate our Indigenous languages. "While they have been marginalized and [First Nations people] suffer from things such as systemic racism and underfunding, we still value our language, and can make it part of who we are in the contemporary world," Hingley explains.

Scott claims that, funding pending, big plans are in the works for this coming year. "The organization that advises the chiefs and tribal council has set a date in February, 2014, for our second annual language festival," he says.

"This year's theme is 'sharing our traditional language'." The plan is for the 2014 festival to be held at E.D. Feehan Catholic High School, and will focus on grades three to five.