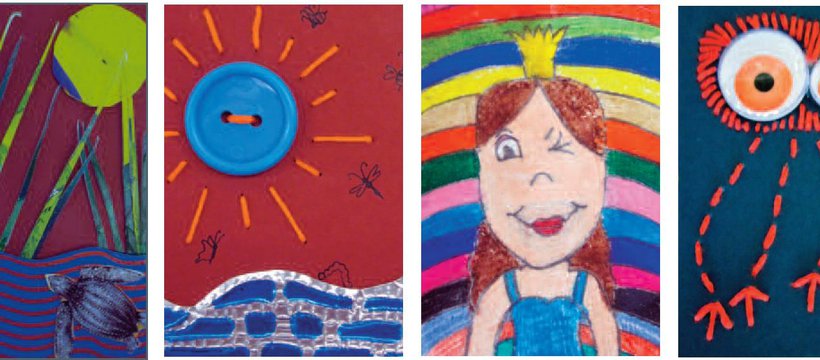 Mann Art Gallery engages community through art
In this issue

Engage - Volume 4, Issue 1, Fall 2013
People of all ages from the Prince Albert area have been discovering their inner artist thanks to a partnership between the Mann Art Gallery and a local business.

Though an artsVest grant, the gallery partnered with Victoria square Compounding Pharmacy a little more than a year ago to promote and display art in the business. This seemingly unusual pairing resulted in the highly successful Artist Trading Cards program.

According to Twyla Exner, gallery educator, Mann Art Gallery, the Artist Trading Cards program came about from the pharmacy's desire to display fun and interesting art that engages people from the Prince Albert and Lakeland District area. Funding for the Gallery's outreach programs is made possible by the lakeland for sport, Culture and Recreation District, supported by the Saskatchewan lotteries Trust Fund for sport, Culture and Recreation.

Starting in February 2013, the Mann Art Gallery began working with school, community and senior groups to create the individualized collection of Artist Trading Cards. Participants, who ranged in ages from three to 93 years old, were encouraged to let their imagination run loose on each of their own pocket-sized cards.

"The participants loved making the cards," said Exner. "I think artist trading cards are such a wonderful activity because they are a very approachable format. It is something you can do fairly quickly and it's something you can do using any medium."

Some of the cards featured painting, embossing, low-relief sculpture and print making techniques. For inspiration, students used curriculum-based themes, which included: pattern, community, environment, Saskatchewan, pop culture, identity, place and social issues.

During this past May, approximately 800 cards were on display in the pharmacy. The exhibition grew while it was on display as visitors were encouraged to make their own Artist Trading Cards which were then added to the show.

A big reception where participants swapped their trading cards with other artists' cards helped wrap up the exhibition at the end of May. People who couldn't attend the reception were mailed another participant's trading card.

Exner said the Artist Trading Card program was a huge success and it was great that it had so much local support.