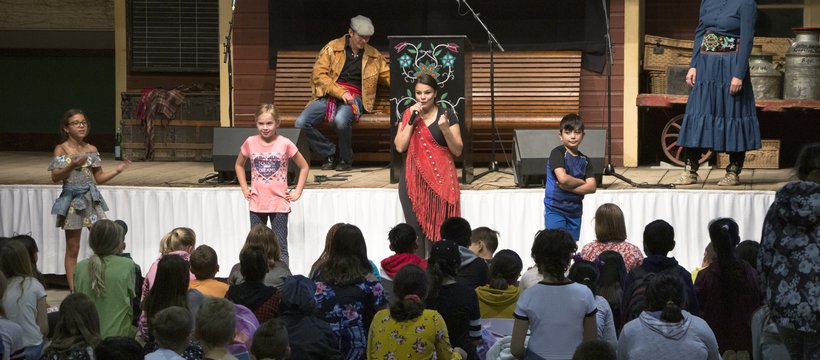 Métis Celebration Encourages Reconciliation
Métis Cultural Days is recognized as a great opportunity to share Métis culture with people in Saskatoon – particularly newcomer audiences.
This second annual event has proven successful in celebrating and preserving the Métis culture, as well as serving as a powerful instrument of Reconciliation.
Organized by the Central Urban Métis Federation (1993) Inc. (CUMFI), Métis Cultural Days took place September 6 to 8, 2019 at the Western Development Museum (WDM) in Saskatoon thanks to strong community partnerships and support from SaskCulture's Aboriginal Arts and Culture Leadership grant.
"Our work takes place in Saskatoon's inner city, home to many First Nations and Métis people, along with a growing newcomer community," says Michelle LeClair, director, Research & Development and Human Resources, CUMFI. "We know that (some) newcomers sometimes see us (Indigenous peoples) in a certain - but often inaccurate - way, so Reconciliation is one of the main reasons we put on Métis Cultural Days - to teach people about the beauty of our culture and our history, and the contributions we've made to Canada, and in particular Western Canada."
She continues, "We wanted to make this event accessible, especially for newcomers and others living in the city, so they can share in our music, our art, our food – all those things that are really universal among human beings. Having it in an urban setting was really important."
Through the planning process, CUMFI forged a strong partnership with the Saskatoon Open Door Society (SODS), which helped facilitate a richer and more meaningful engagement with newcomers. "SODS really helped us reach out into its community because there were definitely a lot more newcomers in attendance than the year before," says LeClair.
A Sunday service was held on the last day that included prayers from a Métis Elder, as well as from the Catholic, Muslim and Buddhist faiths. This was followed by an intercultural celebration of music with Japanese, Peruvian, Métis and First Nations performers. According to LeClair, "The highlight for me was a young boy from the Korean community who sang 'You Got a Friend in Me' on the last day. It was really powerful and in essence, what the celebration was all about.
Approximately 10,000 people came through the doors of the WDM throughout the weekend, some from as far away as France and Australia. Also in attendance were approximately 2,000 school children who came on the first day of the celebration, as part of Métis Cultural Days "Day of Learning". All participants were treated to a full slate of workshops, demonstrations and performances each day, featuring a blend of traditional and contemporary activities designed to share the vibrancy of Métis people and culture through music, art, language and food.
"We had the requisite Métis activities, such as the fiddle and jigging events, but we also offered traditional storytelling, Michif bingo and making bannock over a campfire, to name just a few," says LeClair. She says that along with being a great community partner, the WDM was the perfect venue for the celebration. "There wasn't any idea that we came up with that the WDM staff didn't work with us to make happen." For instance, they were able to display Métis items on loan from the Gabriel Dumont Institute to make the space as authentic as possible. "This openness truly enhanced our celebration of Métis people, culture and history."