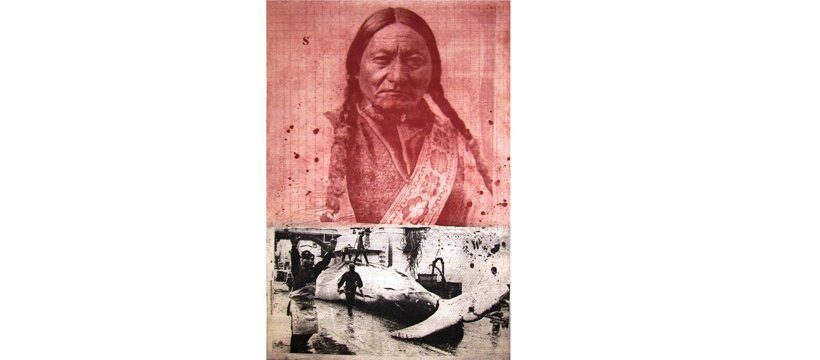 Moose Jaw Art Gallery & Museum acquires suite of Carl Beam Etchings
The Columbus Project, a large body of work by the late Aboriginal artist Carl Beam represents a repossession of indigenous identity and is considered a prominent historical milestone. Part of that project, The Columbus Suite, is a suite of 12 powerful etchings that faces the "discovery" of the Americas. For many of those familiar with the stunning and renowned work of Carl Beam, they know the significance, and rarity, that his work brings to Canadian history.
Beam's work is closer to home that one might expect though, as the Moose Jaw Museum and Art Gallery has acquired and created an exhibition with all 12 prints of The Columbus Suite.
"It's very special to have all 12 prints of the suite," said Heather Smith, curatorial director at the Moose Jaw Museum and Art Gallery. "Pieces are often broken up and it can be hard to find a collection in its entirety." The prints were located by Gordon Novak, a master printmaker who relocated to Admiral, Saskatchewan from Edmonton several years ago. Novak had collaborated on prints and other one-of-a-kind pieces with Beam. When visiting with Novak, Smith noticed a large picture by the late Aboriginal artist hanging at the end of the hall.
"I was so excited to see the picture. We [the museum] had to save up for two years and apply for a matching grant to purchase our first Carl Beam piece," says Smith. Knowing the museum's interest in Beam's work, Novak was able to contact two Toronto-based collectors, Gloria and Vlado Vujeva, who graciously donated the prints to the Moose Jaw Museum and Art Gallery in 2009 so the etchings could be shared with the rest of Saskatchewan.
The Columbus Suite makes its debut in Prince Albert in October 2012. In his work, Beam addresses half a millennium of colonialism, reclaiming and examining notions of discovery and identity to counter the public celebration of Columbus's "discovery" of the Americas. This body of work is a response to the irony of the 500th anniversary celebration of the European "discovery".
"Beam, along with many other people whose ancestors were indigenous to North America, was annoyed at the representation of history from that European perspective," said Smith.
"He believed that all cultures have knowledge to share and it has the ability to move people forward," Smith continues. Beam writes, "My works are like little puzzles, interesting little games. I play a game of dreaming ourselves as each other. In this we find out that we're all basically human".
Beam earned a reputation for being "fearless, visionary, and ultimately, unforgettable" in his work. He was honoured with a Governor General's Award in Visual and Media Arts and recognized by the National Gallery of Canada as one of Canada's most important artists. Beam died in 2005 at his home and birthplace of M'Chigeeng on Manitoulin Island in B.C.. After attending residential school, he studied at the Kootney School of Art in 1971, and graduated from the University of Victoria in 1974. He had also begun a Masters of Fine Arts program at the University of Alberta, but left over a dispute about his thesis on native art. His work has been included in the National Gallery of Canada, Art Gallery of Ontario, Canadian Museum of Civilization and many others.
The Moose Jaw Museum and Art Gallery received funding support from SaskCulture's Multicultural Initiatives Fund (MIF) grant to assist with framing the 12 prints. The Carl Beam traveling exhibition, Dreaming Ourselves as Each other: Carl Beam and The Columbus Suite will be touring around Saskatchewan to community galleries, museums, arts councils, libraries, and other venues.