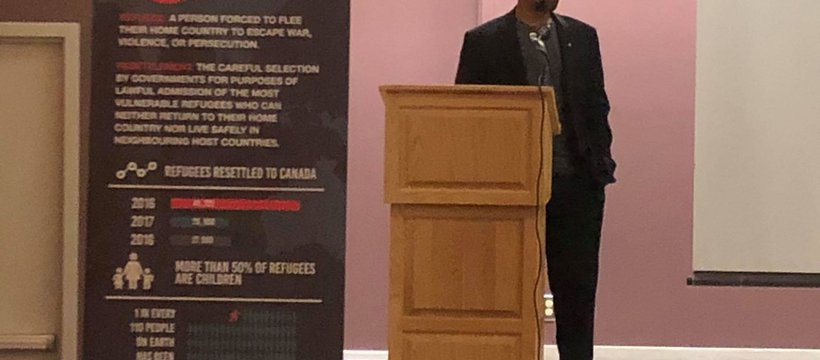 Moose Jaw Provides Platform for Residents to Engage with New Neighbours
In this issue

Engage - Volume 10, Issue 1, Winter 2019
Community members had a chance to hear firsthand the stories of refugees who fled the horrible situations in their various home countries, to make Moose Jaw their home.
This past summer, the Moose Jaw Multicultural Council's Community Connection Program invited community members to a special event to hear these eye-opening stories, and to screen two films that document refugee experiences in Canada.
As the Community Connections Coordinator, Tyler Bastedo's job is to help newcomers to Canada meet new people, improve their English, and get to know more about their community He planned the World Refugee Day event, inviting Paulin Apipila from the Democratic Republic of Congo, and Shakir Ullah from Afghanistan, to address the audience before the films were screened. They spoke about their experiences as refugees, arriving and learning to fit into the Moose Jaw community.
"The documentaries were well-received, but having them introduced by guest speakers who we welcomed just a few years ago made the films more personal and powerful," Tyler explains. "Both men arrived in Moose Jaw as refugees in 2014 and have settled well in the community. By hearing their stories, the audience learned firsthand about the persecution they fled, and the many barriers to integration they had to overcome.
Bastedo says Moose Jaw welcomes about 60 individual refugees each year. "We have a large refugee population in our city, and work to get them involved in community life by fostering a welcoming environment in our city."
In addition to supporting newcomers, the Community Connections Program also helps the Moose Jaw community understand what the newcomers face, through public speaking engagements, awareness campaigns, promotional resource development, and intercultural communication and integration training for community agencies and the general public.
"We've held a variety of events over the past few years to celebrate World Refugee Day," Tyler says. "This year, our goal was to bring people from all backgrounds together to create understanding and unity within the community. The films we selected were eye-opening for everyone in the audience, as they heard from refugees rebuilding their lives in Canada."
Both films are available online for viewing. "Last Chance" is feature-length and tells the stories of five asylum seekers who fled their native countries to escape homophobic violence. The other film, "19 Days," is a short documentary that follows several refugee families during the 19-day timeline established by the federal government, when an initial assessment is done and refugees are assisted with everything from airport reception and orientation to referrals, documents, and counselling. You can view both films on the National Film Board of Canada's website.
This event received funding from SaskCulture's Multicultural Initiatives Fund.