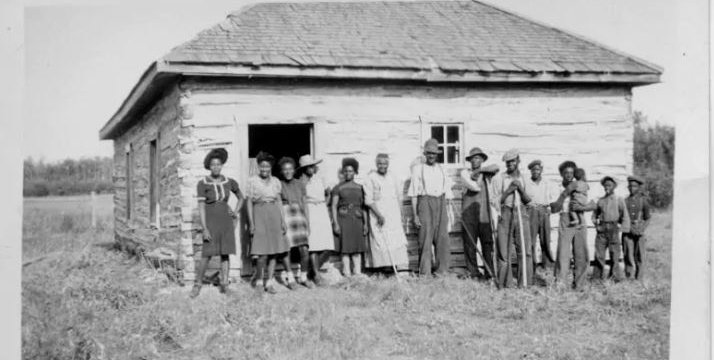 Shiloh Community History Inspires Descendants to Embrace Identity
In this issue

Engage - Volume 10, Issue 1, Winter 2019
Earlier this year, the Shiloh community - the first black community in Saskatchewan - received provincial heritage property designation. The Shiloh community was founded by dozens of families, who were seeking freedom from discrimination, and found their way to Maidstone, Saskatchewan in 1910. The Shiloh church, which received designation was the first building that was built by the families.
As one of the original descendants of the Shiloh people, Crystal Mayes, director with the Saskatchewan African Canadian Heritage Museum, is pleased with the designation as it recognizes the history and contributions of African-Canadians to the province.
Crystal Mayes is the great granddaughter of Mattie Mayes, who is one of the first families in the Shiloh community. She says her great grandmother was the only midwife for the community of Maidstone at the time. This, and the accomplishments of the community, inspires her daily to embrace her history and identity.
"Growing up here (in Saskatchewan), I did not really know my place. The town that I grew up, there were no other kids my age that were black. As I got older, I started searching more about our family histories and that really inspired me," she says. "It makes me feel very proud that she was my great grandmother and she was a great role model for everybody in my family, myself and my siblings."
She believes the designation will help educate people that the black community has been in the province as long as many European settlers.
"It's just really a story of perseverance and that they (the original Shiloh members) were overcoming really great obstacles and were still successful," she says. "They were not allowed to have a lot of things, but they were allowed to have a church so that would have probably being everything to them."
Mayes hopes that other African-Canadian Kids can be proud of their history and embrace their western life. "I did not know our family history that well. So as a nurse, when I am out seeing my elderly clients in their homes in the community. People will ask me where I am from and I will say Saskatchewan. They'll say 'no where you came from,' and I say my parents are from Saskatchewan too," she explains. "When they finally understand that my family has been here as long as the European settlers, then they'll understand that this is my home too."
When asked to describe the church, she says it is a "pretty cool place and historic," and it makes her feel like she is stepping back in time to what it would have been like for the families in 1910. "There are pictures that increase people's awareness of the history of the Shiloh people, and the community. There is a picture of my great grandmother right at the front."
Mayes says there is more information about the building and the history of the families on SACHM's website. "There a plans to have a reunion at some point but that would be a couple of years down the road. SACHM always has events going on at the site, and all those histories are on that website as well."
SACHM received funding from SaskCulture's Multicultural Initiatives Fund.