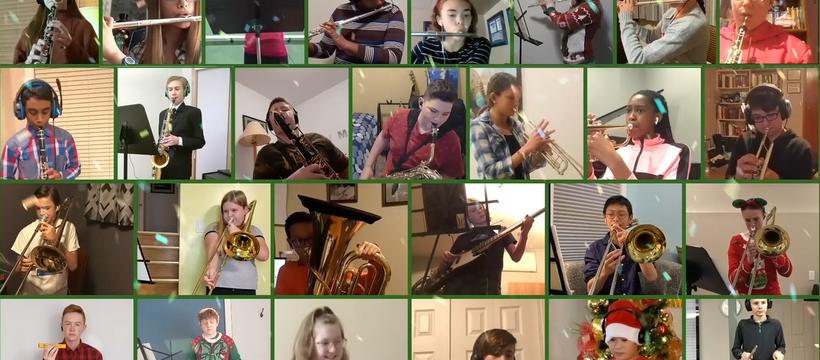 Online Band Concerts Keep Music Lovers Engaged
In this issue

Engage - Volume 11, Issue 2, Spring 2021
The Rolling Stones did it: Mick, Keith, Ronnie and Charlie, each in their own homes, got together to belt out their classic 'You Can't Always Get What You Want" as a gift to a plague­ridden world.
So why not sing from Saskatchewan?
Using essentially the same Internet technology, and orchestrated by the Saskatchewan Band Association (SBA), over one hundred musicians – from elementary school students through high school and adults, and from all over the province – joined forces for a provincial virtual holiday band concert in December 2020.
At the start of October, as COVID­19 public health restrictions made it clear that many school programs and community bands were on hold, Suzanne Gorman, CEO of the SBA, had begun to consider what such a virtual concert might look like.
Holiday concerts are "a much­loved band tradition," Gorman says. The association "wanted to provide the band community with an opportunity to still celebrate the season and share the music with their family and friends."
The concert, which took many hours and many people working together to pull off, "was a major project and much larger than originally expected," Gorman says, "but incredibly fun and rewarding to put together."
The result was a province­wide celebration of band music with five different Christmas tunes. Over 2,000 people have viewed the video between December 2020 to January 2021, on SBA's website at saskband.org.
Almost immediately after the pandemic began in March 2020, the SBA began to adapt its programming "and has not stopped adapting," Gorman says. By fall, with the holiday season approaching, its staff was already quite familiar with the technology needed to pull off the holiday concert.
"The overarching goal for the SBA during the pandemic has been to keep band musicians of all ages and levels engaged and practicing," Gorman says. "The long­term objective has been to help musicians and bands be prepared, ready and able to play again when restrictions allow. As an added benefit, the altered programming has increased networking opportunities and connected musicians of various ages and locations like never before."
Last summer, the Association offered virtual band camps and into the school year were producing instructional videos and a free webinar series – "Tune Up Tuesday" – which offered a mix of practical, motivational and skill­based topics for band musicians, directors and leaders.
"The series began with an all­important session on the International Performing Arts Aerosol Study outlining how band programs could be resumed safely," Gorman says. "The session provided bands, schools and decision­makers with evidence­based research to guide 'back to band' programming."
In the new year, the SBA is continuing to offer support in a virtual environment, including free master classes and an After­School Online Band Program for students in grades 7/8 and 9/10 with specific focus on serving youth where school band programs have been either entirely cancelled or significantly altered. The after­school program was made possible by a grant from the G. Murray and Edna Forbes Foundation Fund offered by the South Saskatchewan Community Foundation.
The Saskatchewan Band Association receives Annual Global Funding from Sask Lotteries.