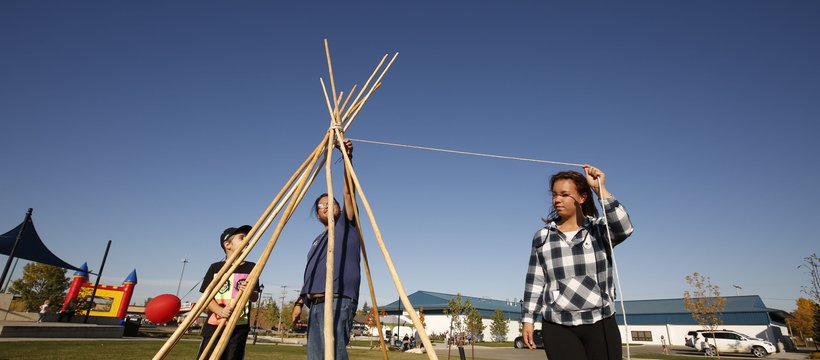 Participatory grant-making strengthens relationships and funding options
One of the key strengths of the Share and Connect grant program, launched January 2023 by SK Arts, in partnership with SaskCulture, is its development through a participatory grant-making process. It is a process that SaskCulture hopes can be used to develop funding programs that meaningfully address Truth and Reconciliation, as well as inclusion, diversity, equity and accessibility going forward.
Participatory grant-making is a process that involves placing affected communities directly at the centre of grant-making, sharing the power of decision-making to decide who, what and how to fund. It has the ability to transform traditional grant-making practices and shift decision-making power to communities who are directly impacted.
"Participatory grant-making provides a platform to engage directly with affected communities," says Damon Badger Heit, supervisor, Partnerships and Inclusion, SaskCulture. "It reduces barriers and builds cultural supports and programs that meet the needs of the growing diversity of Saskatchewan cultures and peoples." Badger Heit worked directly with SK Arts to develop the Share and Connect grant, which receives funding from the Sask Lotteries Trust Fund.
Carol Greyeyes, program consultant, SK Arts, explains how the participatory grant-making process began with ten virtual talking circles that brought together First Nations Elders, Residential School Survivors, artists and Knowledge Keepers to inform the development of the Share and Connect grant. Greyeyes says, it is a great model to disrupt colonial systems, and very necessary to be inclusive and responsive. "If we just keep doing everything the same way, we're reinforcing those old structures, those old paradigms and the old way of doing things that were set up to be exclusive. Funding organizations are in a time of rapid societal change and we need to respond to those changes and adapt."
Based on an Indigenous world view, the grant program offers an application and reporting process that is more simplified and accessible. People are able to apply and/or report orally by video-recording, videocall or phone call. Grant application assessment is guided by the Four R's of Indigenous teachings of Respect, Responsibility, Relationship and Reciprocity. The process also dismantles the decision-making hierarchy between the granter and the community, replacing it with a more circular process, where everyone's perspective is heard and valued.
Since launching the Share and Connect program, Greyeyes learned the consultations were also an effective communication tool. "We increased our advocates – people who could carry the knowledge of the grant back to their communities and spread the word." As a result, the first funding round saw 18 applications, which were not only diverse in artistic medium, but high in project quality.