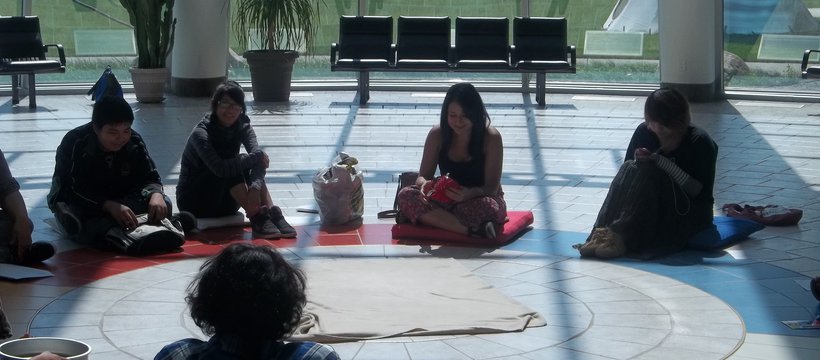 Retreat helps Aboriginal youth share their stories
Aboriginal youth are sharing their stories. In August 2012, the Saskatchewan Writers' Guild (SWG), in partnership with the First Nations University of Canada (FNUC), hosted the first annual Bringing Back the Buffalo: Aboriginal Youth Writers' Retreat in Regina. This project was designed to encourage Aboriginal youth, ages 15 to 22, from all backgrounds to share their stories through written literary works and artwork.

According to Joely BigEagle, Aboriginal program coordinator at the SWG, the idea for the retreat was developed out of the need to get Aboriginal youth to tell their own stories.

"The outcome of the writers' retreat was to transfer knowledge to the youth in terms of storytelling and history," explains BigEagle. "We wanted to give them ways to empower themselves so they can share their stories in their own words and writing styles."

Saskatchewan broadcaster and performer, Carol Daniels, was hired to lead the four- day program as an Aboriginal arts and culture leader. Daniels organized each day into a specific theme: storytelling, imagery, poetry, political expression and celebration of culture. Each day, the 13 youth participants were involved in writing workshops, assignments and presentations. They also had to present their daily writings to the group.

"We developed a program that we thought would help to nurture the youths' desire to write," says BigEagle.

"Exposing them to a university environment and getting them to think about their future was an additional benefit of the program," she adds.

By the end of the four days, enough literary material was written to produce an anthology.

BigEagle believes the first Aboriginal Youth Writers' Retreat was a tremendous success. So much so, the SWG plans to hold one in Regina and in Saskatoon again this year.

"The youth were impressed with the leadership and confidence they gained as the week unfolded," says BigEagle. She adds that, "many of last year's participants want to return again this summer."

Thanks to funding from a SaskCulture Aboriginal Arts and Culture leadership Grant, the SWG was able to turn the idea of a youth writers' retreat into a reality.