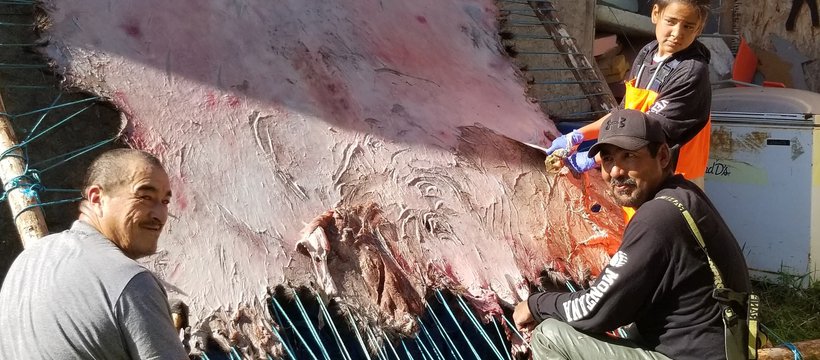 Revitalizing Moose-hide Tanning for Youth in Northern Saskatchewan
For generations, moose-hide tanning has been a traditional practice in many Indigenous communities; however, many youth today may not have these skills.Thanks to funding from the Aboriginal Arts and Culture Leadership (AACL) grant, youth in northern Saskatchewan are learning how to tan moose hides – with the hope that the Indigenous traditional practice will grow.
The idea for the workshop started when Tommy Bird's Culture Camp noticed that only a few young people had knowledge of moose-hide tanning. Bird approached the Northern Sport, Culture and Recreation District (NSCRD), and they partnered to revitalize this practice so that the youth could carry on with the tradition.
Harmony Johnson-Harder, program manager, culture and community development at the NSCRD, says that, at the time, Bird's Culture Camp was a newly created organization that did not meet the requirements to be eligible for the AACL grant. So, the NSCRD worked in partnership with it to become the financial partner, and Bird's Culture Camp became the programmers.
The workshops, which were held in August 2019, engaged students from Reindeer Lake School located in northern Saskatchewan and other youth in the community in different parts of the process. The students worked with local Knowledge Keepers and Elders from the community to learn how to stretch, scrape, and smoke a moose-hide. They learned all the traditional techniques involved from its beginning to the final product.
Johnson-Harder says both groups saw a need to teach the younger generation about the importance of, and the gifts provided by, a moose. "The moose and its hide is all- encompassing: it provides food and clothes. The meat from a moose is shared with the community.
And, the preparation of a hide brings many people together. The leather is used for clothing. It also provides the opportunity for people to practice their skills - such as sewing and beadwork."
According to Bird, tanning a hide is more than just creating a product, as it takes skilled hunters to find a moose and a community to help butcher, share the meat, and prepare the hide for leather. Bird shares that, "a lot of youth are not familiar with tanning hide or have not participated in the experience. During the workshop, the youth connected the stories they had heard from their relatives to the task. It also opened up the opportunity for Elders to share stories and teach the youth. Preparing a hide creates a connection to tradition, community, and family."
Johnson-Harder agrees, adding that the project had a great impact on the youth who participated. She says they now have a better understanding of the traditional practice and the importance of the moose hide.
They have a new and different outlook and are able to connect old stories and community to the actual activity of tanning," she says. "Many were very curious. Having a personal interaction with the Elders and Tommy made them more interested in learning."