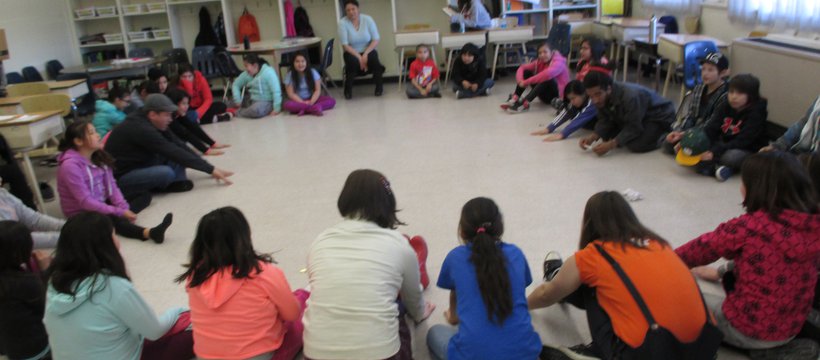 Spoken word brings Cree language to life for students
In this issue

Engage Volume 4, Issue 3, Summer 2014
Some may consider older styles of poetry to be dead, but a Saskatoon education coordinator is using the medium to bring the Cree language to life, and her students are reaping the rewards.
Desiree Macauley says she first came up with the idea for a project involving spoken word as a teaching tool last May. She conceived the concept of students at St. Frances School expressing themselves through spoken word and hip hop, both using the Cree language.
Macauley's spoken word project, based on the treaties, partnered 30 students from Grades 4-6, at St. Frances School, with 20 Oskayak High School students. "The reason I included Oskayak was for mentorship," she says. "They were able to mentor students at St. Frances with the Cree translations, and the spoken word."
For additional support, Macauley coordinated a team of people that included herself and five staff members between both schools. Her project also included poets from the surrounding community, who she recruited as facilitators.
Macauley wanted to find as many Aboriginal facilitators as possible, so she spoke to Lindsay Knight, Kevin Wesaquate and Zoey Roy. "I included Jordan Schultz, and he was amazing ... the kids just gravitated to him," she says.
The key part of the project, which took place over a three and a half month period, culminated with two St. Frances students performing their poems onstage at the Oskayak High School Gala.
"When I read the pieces to the Cree speaking staff at the school, they told me that when the poetry is read in Cree, it's much more powerful," Macauley explains. "And even when I read the Cree parts to the staff, I could feel the power and the strength of those words."
Macauley adds that she hopes the program's success will continue, and is hoping to do it again next year, refine it and take it further.
"The kids did a wonderful job. Next year, we have to do it again, with tons and tons of Cree," Macauley says. "That is where the magic is going to be, within the Cree. You can get kids to write an essay to convey their knowledge, or you can get kids to write a song to a beat. Spoken word captivates their attention and interests a little more than essays, and you still get the same point across."
The program was a success thanks to the help of a TreatySmarts grant, a unique initiative under the Artsmarts Saskatchewan banner, with funding from the Saskatchewan Ministry of Education, the Saskatchewan Arts Board and SaskCulture/Saskatchewan Lotteries. Risa Payant, program consultant for arts and learning, Saskatchewan Arts Board explains, "It supports arts curriculum instruction, but it speaks directly to the concept of treaties."
"Desiree is so excited about the work that she's doing with her students," Payant adds. "She's interested in weaving the Cree language through the engagement of her students. It's not something that I've seen happening in other schools around our province."