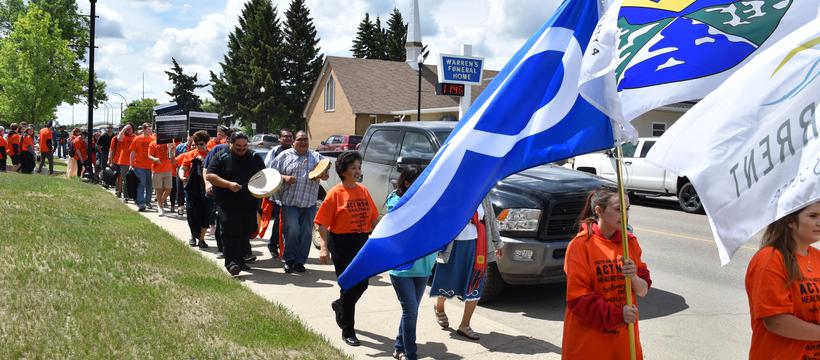 Taking action toward Reconciliation
When the Truth and Reconciliation report came out in 2015, the Southwest Multicultural Association (SMA) had a few goals in mind: to learn more about the history of Indigenous peoples in Canada and help make this knowledge more accessible to members of their community, particularly new immigrants to Saskatchewan.
To achieve its goal, the board set up a Truth and Reconciliation Committee, comprised of about 18 representatives from different sectors and groups, including First Nations groups, Elders, the City of Swift Current, school division, libraries and the Welcome Centre, to name a few. Since 2015, the SMA and the Truth and Reconciliation Committee have been organizing an annual Reconciliation event designed to build awareness and support change thanks to funding from SaskCulture's Multicultural Initiatives Fund.
"We sent out invitations and asked different people and organizations if they would be interested in being on a Truth and Reconciliation Committee, as we saw it. We wrote to them to join the committee," says Bula Ghosh, board secretary, SMA. Ghosh explains that the committee has significantly contributed to impacting change, "We can tell the story of Indigenous peoples in Canada and let people make more informed decisions."
The committee has organized and presented at least one event every year since 2017 on different themes to create awareness. The themes were on Residential Schools, Sixties Scoop, Missing and Murdered Indigenous Women and Girls, and What does Reconciliation Mean to Me.
Last year, the Committee held a flag-raising ceremony, making the Treaty 4 flag and Métis Nation flag become permanent fixtures at the Flag Court in Swift Current. In 2022, the SMA event, themed ReconciliACTION and the Path Forward, will host a variety of activities, including sessions led by Elders from Nekaneet First Nation, along with a presentation by His Honour, The Honourable Russ Mirasty, Lieutenant Governor of Saskatchewan.
"We cannot live in a divided world like this. It's not okay. We (Indigenous and settler communities) have to come together. Our future depends on how well we are able to reconcile and live together in harmony," Ghosh says.
As an immigrant and settler herself, Ghosh notes she is benefiting from the shared land, and feels she has an obligation to do something to create strong and equitable communities. "Everybody has a role to play in Reconciliation and it is not about pointing fingers. We hope that Reconciliation will be an important process for everyone," she explains. "We hope that people will participate in this process with an open mind and build a better future for all."