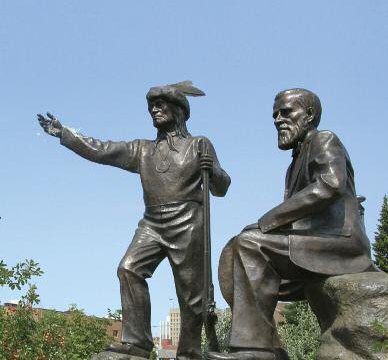 Uncovering the Cultural Drivers for Saskatoon's Culture Plan
Known for its river, its heritage and its vibrant arts and culture scene, Saskatoon jumped on the opportunity to incorporate its unique culture into a range of different priorities including urban design, youth engagement, recreation programming, economic development, as well as neighbourhood and downtown revitalization.

Recognized as a Culture Capital in 2006, Saskatoon took advantage of this opportunity to increase interest in municipal cultural planning. The increased exposure of Saskatoon's cultural assets helped to shift the focus from emphasizing the cost of culture to an approach that recognizes the value of culture investment. By the end of 2010, the City of Saskatoon was well on its way to completing its first-ever Municipal Culture Plan.

According to Kevin Kitchen, Community Initiatives Manager, City of Saskatoon, "The purpose of the Municipal Culture Plan is to establish a shared vision for culture in Saskatoon and to provide a set of guiding principles, strategic directions, objectives and specific actions for implementation over the next five years to ensure Saskatoon reaches its greatest potential as a culturally vibrant and creative city."

For Saskatoon, the timing of the culture plan has coincided with a broader community visioning initiative, known as the Saskatoon Speaks. "This initiative has provided for a unique opportunity to not only link," says Kitchen, "but to embed culture into broader community values and aspirations for the city as it grows to a population of 500,000 over the next 50 years."

The development of Saskatoon's municipal cultural plan is being led by City of Saskatoon staff, under the direction of the Community Development Branch, and in collaboration with community arts and cultural stakeholders and Saskatoon residents. In late 2009, the City established the Office for Urbanism (now known as Dialog), led by Jennifer Keesmaat to facilitate the process. Cultural planning experts Dr. Greg Baeker of AuthentiCity and Marian Donnelly of Inner Circle Management have also been instrumental in the process.

Community participation has been key to the development to date. Through stakeholder interviews, a Cultural Planning Forum in March of 2010 and a Culture Plan Open House, held in December, the general public and cultural stakeholders have had an influential impact on the planning work. Saskatoon's draft Municipal Culture Plan will be available for public review and comment at the Saskatoon Speaks: Listening to You City Summit, scheduled for winter 2011. The final Culture Plan will be presented to City Council for approval in the spring of 2011.

For more information on the Saskatoon Culture Plan please visit the City's website at www.saskatoon.ca (see "C" for Culture Plan).