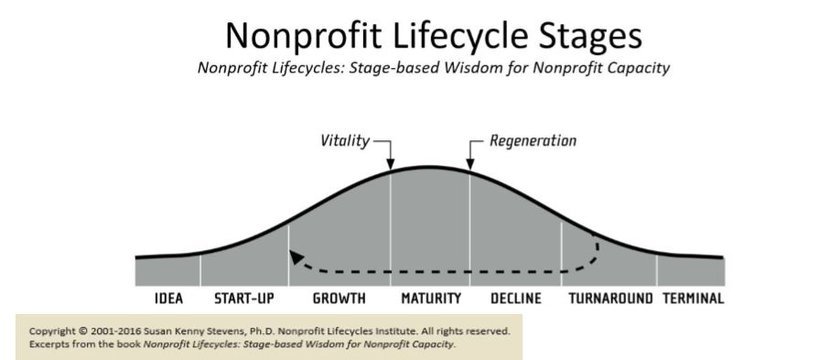 Nonprofit Lifecycles
What is a NONPROFIT LIFECYCLE?
Non-profit organizations are at the heart of great work in communities throughout the country. Some start up to serve a particular mission and last for many years, some ride through good times and bad, others may lose focus and falter. All organizations move through different stages of development, from start-up to growth, decline to turnaround, growth to maturity as a normal process. It is important for organizations to recognize at what stage they are to begin focusing on planning for the future.
What is the NONPROFIT LIFECYCLE Approach?
In 2001, Susan Kenny Stevens compiled her 30 years of non-profit experience and research into an approach based on a framework designed to assess a non-profit organization's health and capacity as it moves through various stages of development: idea, start-up, growth, maturity, decline, turnaround and terminal. She outlined her approach in her book Nonprofit Lifecycles: Stage-based Wisdom for Non-profit Capacity. Her work helps highlight the importance of the key capacity areas, or "table legs", of governance, management, administration and resources, that must be operating in balance to support a non-profit's programs and mission.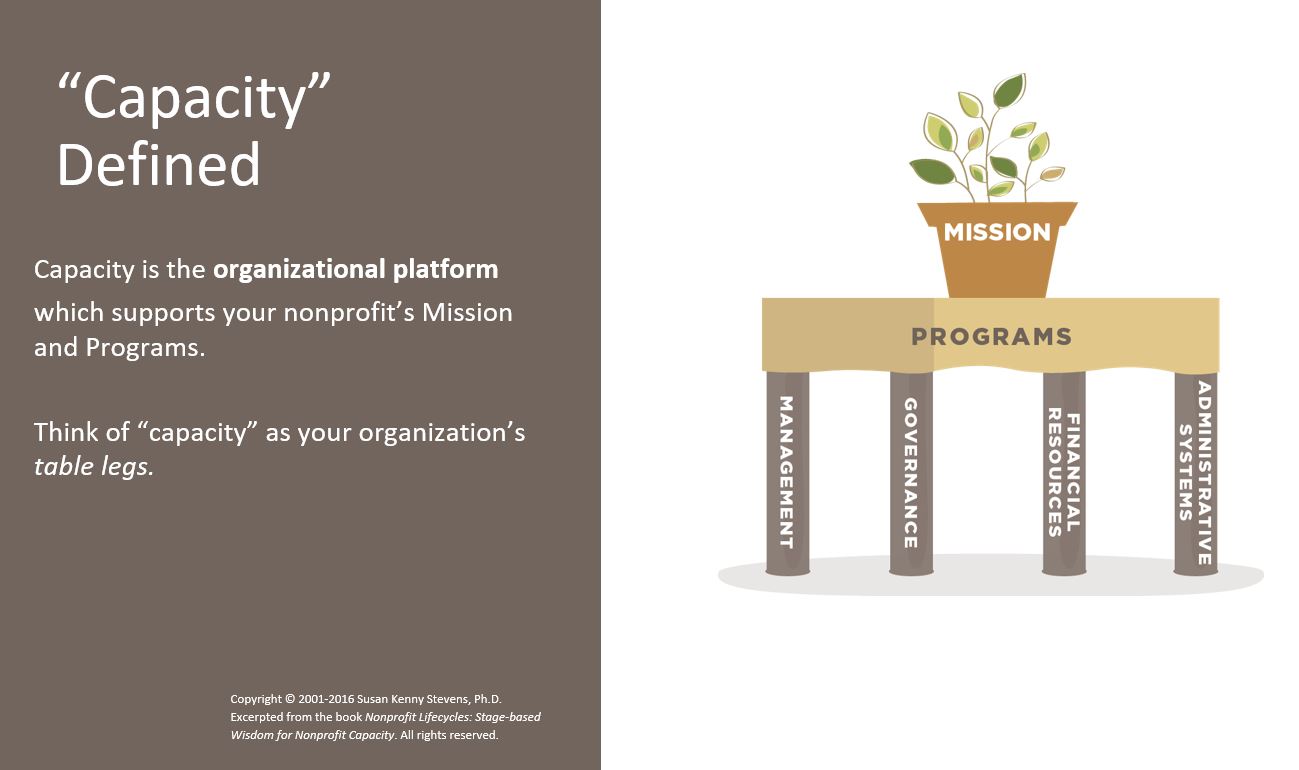 The NonProfit Lifecycle Approach:
Provides an assessment model to help an organization identify where they are in their "lifecycle".
Helps identify areas of organizational planning and capacity building efforts
Increases insight into current challenges and opportunities for development.
Identifies concrete steps to help strengthen the "table legs" to successfully support an organization's mission and programs.
All materials and images are copyrighted by the Nonprofit Lifecycles Institute and are used with permission.
Other resources:
To find out more about the Nonprofit Lifecycles Institute, visit its website.
Copies of Nonprofit Lifecycles are available for $30, plus shipping and handling. Email SaskCulture for more information.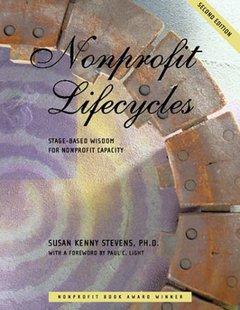 Consult
If you are interested in finding out more about how SaskCulture is supporting the Nonprofit Lifecycles approach in Saskatchewan, contact Alex Rogalski, Outreach Consultant, SaskCulture, at 306-975-2015 or by email.