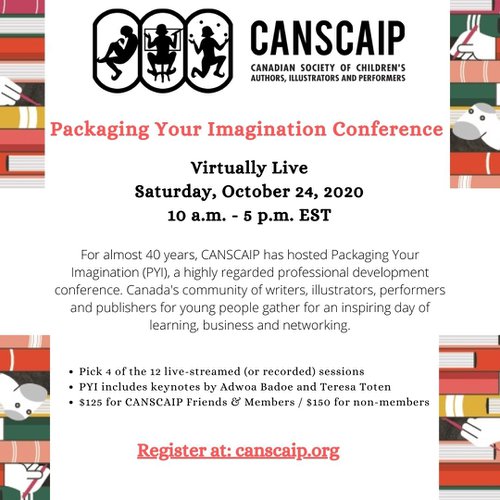 2020
Oct 24
8:00 AM — 3:00 PM
Cost: $125 for members/friends or $150 for non-mbers
Registration includes 2 keynotes and 4 sessions
Register
Conference
Arts: Multidisciplinary
Arts: Literary
Arts: Media
CANSCAIP PACKAGING YOUR IMAGINATION CONFERENCE 2020
PYI 2020 will be a LIVE-STREAMED event on Saturday, October 24, 2020
(and recorded for ONLINE VIDEOS)


For almost 40 years, CANSCAIP has hosted Packaging Your Imagination (PYI), a highly regarded professional development conference. Canada's community of writers, illustrators, performers and publishers for young people gather for an inspiring day of learning, business and networking.


PICK YOUR OWN PYI!
Pick 4 of the 12 live-streamed (or recorded) sessions 
Keynotes included with all registrations


$125 for CANSCAIP Friends and Members / $150 for non-members



ONE-TO-ONE WITH PUBLISHERS
Book a 15-minute meeting with a publishing industry professional who's evaluated your manuscript or portfolio
Add a One-to-One to your Live-Streamed PYI registration for an additional $75
Don't delay—they always sell out!
Register
2020
Oct 24
8:00 AM — 3:00 PM
Cost: $125 for members/friends or $150 for non-mbers
Registration includes 2 keynotes and 4 sessions
Organizer