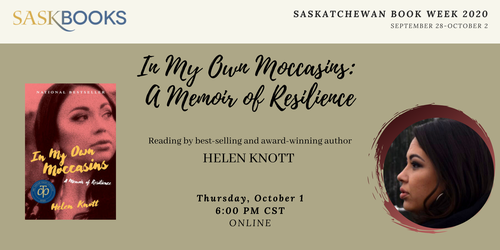 2020
Oct 01
6:00 PM — 7:30 PM
Cost: Free
Register
Artist/Author Talk
Arts
Arts: Literary
Indigenous: All
In My Own Moccasins: Helen Knott Book Week Author Reading
Helen Knott, a 2019 RBC Taylor Prize Emerging Author, will be doing an online reading of her first book, In My Own Moccasins: A Memoir of Resilience (U of R Press, 2020).

The virtual reading will take place online on Thursday, October 1st at 6:00 pm CST.

Pre-register for the reading and have your name entered to win a copy of In My Own Moccasins!

In My Own Moccasins is an unflinching account of addiction, intergenerational trauma, and the wounds brought on by sexual violence. It is also the story of sisterhood, the power of ceremony, the love of family, and the possibility of redemption. A national bestseller, Knott's memoir continues to receive accolades since its recent publication, most recently a 2020 Saskatchewan Book Award. Knott is now amongst some of the most widely read Indigenous voices in the country, and has earned praise from Eden Robinson, Richard Van Camp and Carol Daniels, to name a few. As Leanne Betasamosake Simpson explained, "Helen Knott speaks truth to the experience of Indigenous women living through the violence of colonized spaces and she does so with grace, beauty and a ferocity that makes me feel so proud."

Helen Knott is of Dane Zaa, Nehiyaw, and Euro descent from Prophet River First Nations, living in Northeastern B.C.. Helen is a Masters in FN Studies student at UNBC currently and holds a Bachelors Degree in Social Work. She has various pieces published in places such as the Malahat Review, Chatelaine, and The New Quarterly. Her first book, In My Own Moccasins: A Memoir of Resilience, was released in the Fall of 2019 through the University of Regina Press and has been a national bestseller, and is currently shortlisted for a BC Yukon Book Prize.
Register
2020
Oct 01
6:00 PM — 7:30 PM
Cost: Free
Organizer
Accessibility