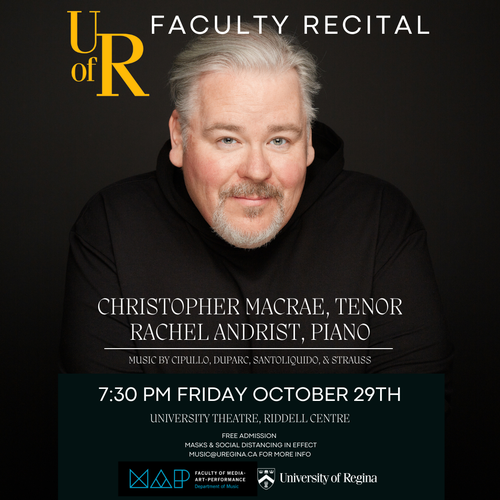 2021
Oct 29
7:30 PM — 8:30 PM
University Theater, Riddell Centre
3737 Wascana Parkway
Regina SK
S4S 0A2
Treaty 4 Territory
Cost: Free
Faculty Recital: Christopher MacRae, tenor
The University of Regina, Department of Music will present a Faculty Recital featuring tenor Christopher MacRae and pianist Rachel Andrist. Dr. MacRae joinedthe university faculty this fall, where he teaches applied voice lessons and voice related courses in the Department of Music.

The concert includes well known songs by Henri Duparc and Richard Strauss, but also lesser known works like "I canti della sera" (Songs of theNight) by the early 20thcentury Italian composer Francesco Santoliquido, and the funny yet poignant song cycle "Another Reason Why I Don't Keep A Gun In The House" by American composer Tom Cipullo and poet Billy Collins.

The Faculty Recital will be presented on Friday, October 29th, 2021 at the University Theatre in the Riddell Centre at the University of Regina. The concert will start at 7:30 pm and admission is free. Masks and social distancing rules will be in effect.
2021
Oct 29
7:30 PM — 8:30 PM
University Theater, Riddell Centre
3737 Wascana Parkway
Regina SK
S4S 0A2
Cost: Free
Organizer
Accessibility
Wheelchair Accessible
Safe and Inclusive Space