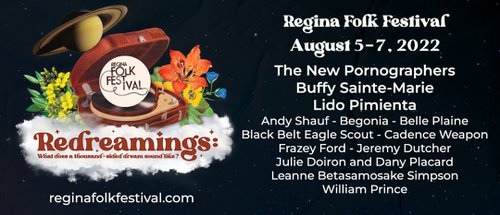 Victoria Park
2190 E Victoria Ave.
Regina SK
s4n7b9
Treaty 4 Territory
Cost: $70 single nights, $160 weekend pass
daytime programming is free
Buy Ticket
Regina Folk Festival: 51st edition
Regina Folk Festival returns with its 51st Festival, themed 'redreamings'.

'redreamings': what does a thousand-sided dream sound like?
We invite you to come celebrate music and community with us anew in Victoria Park on Aug. 5-7th 2022!

This year's line up features an incredible blend of musical styles, cultural influences, and, above all, some of the world's best talent:

The New Pornographers - Buffy Sainte-Marie - Lido Pimienta
Andy Shauf - Begonia - Belle Plaine - Black Belt Eagle Scout - Burnt Sienna Boulevard - Cadence Weapon - Dump Babes - DJ Durga - DJ Hendrika - Dominique Fils-Aimé - e.dulanowsky - Ellen Froese - Étienne Fletcher - Frazey Ford - GRR! - Jeremy Dutcher - Julian Taylor - Julie Doiron and Dany Placard - Katie Tupper - Kris Alvarez - Leanne Betasamosake Simpson (Guest Curator) - Library Starship - Mark and Jess - MELODNA - PIQSIQ - Riva Farrell-Racette - Sabeen Ahmad - THINKTANK - VibesYQR - Wares - William Prince - Wolf Willow

The 2022 festival will offer FREE DAYTIME CONCERTS and WORKSHOPS on sunlit stages, a CHILDREN'S AREA with music, dance & crafts, a huge VENDORS MARKET with all sorts of one-of-a-kind stuff and tasty treats, festival BEER GARDENS, a pop-up RECORD STORE as well as highly anticipated MAIN STAGE CONCERTS.

We're saving you a spot! Weekend Passes & Single Night Tickets are now on sale!
Buy Ticket
Victoria Park
2190 E Victoria Ave.
Regina SK
s4n7b9
Cost: $70 single nights, $160 weekend pass
daytime programming is free
Organizer
Accessibility
Wheelchair Accessible
Deaf / Hard of Hearing
Safe and Inclusive Space