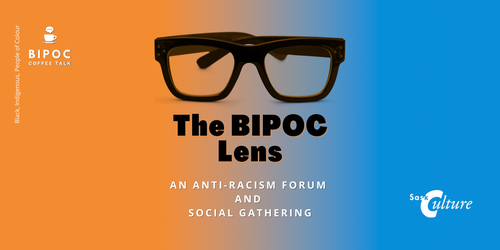 2022
Jul 10
11:30 AM — 7:00 PM
Broadway Collective
733 Broadway Ave #101
Saskatoon SK
S7N 1B3
Treaty 6 Territory
Map
Cost: $10-$20
Buy Ticket
Gathering
Arts: Dance
Multicultural
Multicultural: Anti-racism
The BIPOC Lens: An Anti-racism Forum and Social Gathering
A day-long event of forum discussions, socializing, and networking centered around the theme of anti-racism. Professionals will speak on the following anti-racist topics: The importance of BIPOC (Black, Indigenous, People of color) perspectives in the UI/UX industry, Why Canada needs newcomers, Being a Black entrepreneur in the fashion industry, and The effects of climate change on Indigenous Peoples. The event will conclude with a social gathering to bring together attendees (BIPOC and allies) in the community to facilitate meaningful connections through Latin dancing, karaoke, and trivia.

This event aims to raise awareness of anti-racism practices and the importance of multicultural practices in Saskatoon by educating people on anti-racist topics from the lens of BIPOC.

19+ (ID required)

Food provided (please include your dietary restrictions when registering)

This event will be live-streamed!
Buy Ticket
2022
Jul 10
11:30 AM — 7:00 PM
Broadway Collective
733 Broadway Ave #101
Saskatoon SK
S7N 1B3
Map
Cost: $10-$20
Organizer
Accessibility