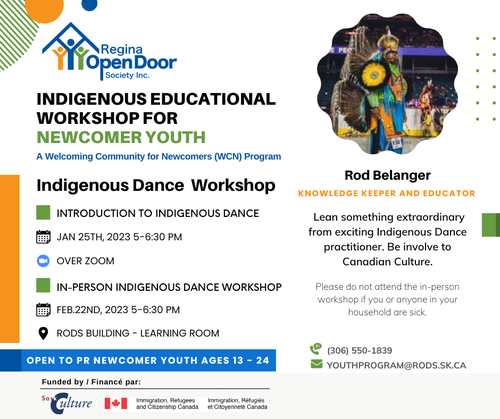 2023
Jan 25
5:00 AM — 6:30 AM
Cost: FREE
Register
Workshop
Arts: Dance
Indigenous: All
Youth Indigenous Educational sessions: Indigenous Dance Workshops
Regina Open Door Society - Welcoming Communities for Newcomers (WCN) - Youth Program is pleased to announce the upcoming January and February Youth Indigenous Educational sessions: Indigenous Dance Workshops .

There will be one online introduction session on Jan. 25th and one in-person dance session on Feb. 22nd.

We are pleased to have Rod Belanger, who is a Knowledge Keeper and Educator. He is from the Chacachas/Ochapowace First Nation and of Nehiyo/Nahkwe decent, and has been actively educating and assisting in the promotion of Indigenous history and Education within Treaty 4 Territory. He is also actively involved in Indigenous dance practices.

This program is open for PR youth aged 13 – 24. Please refer to the attached poster for more information.
Register
2023
Jan 25
5:00 AM — 6:30 AM
Cost: FREE
Organizer