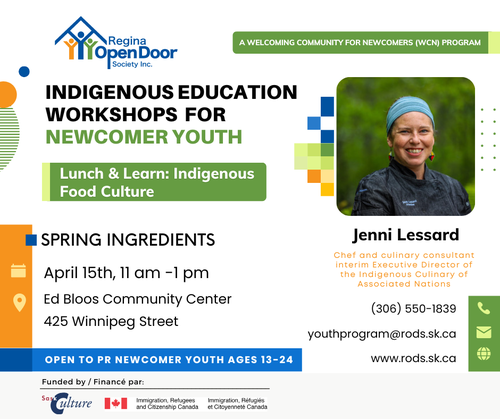 2023
Apr 15
11:00 AM — 1:00 PM
Food Bank training kitchen (ED BLOOS COMMUNITY CENTER)
425 Winnipeg Street
Regina SK
S4R 8P2
Treaty 4 Territory
Cost: Free
Register
Workshop
Indigenous
Indigenous: Métis
Lunch & Learn: Indigenous Cuisine and Cooking Workshop
Are you interested in Indigenous Cuisine? 
Do you want to learn about local Spring ingredients? 
RODS-WCN-Youth Program is pleased to have Chef Jenni Lessard, who is a member of the Métis Nation of Saskatchewan and is the interim Executive Director of the Indigenous Culinary of Associated Nations. She is going to facilitate an in-person cooking session to newcomer youth on April 15th at Food Bank Training Kitchen!
This program is open for PR youth aged 13 – 24. Please refer to the poster for more information. 
5 spots in total! Please register as soon as possible! 
Date: April 15th  (Saturday)
Time: 11am – 1 pm 
Location: Food Bank training kitchen (ED BLOOS COMMUNITY CENTER)
Transportation: We will provide bus passes if you need (Please let us know)
To Register (Please have your PR card number ready for registering): 
https://rods.sk.ca/programs/settlement/wcn/youth/youth-bridges-registration-form/
NOTES: Please let us know if you have any allergies. Please do not attend the workshop if you or anyone in your household are sick.  
Should you have questions, please contact 306-550-1839 or email 
youthprogram@rods.sk.ca
.
Register
2023
Apr 15
11:00 AM — 1:00 PM
Food Bank training kitchen (ED BLOOS COMMUNITY CENTER)
425 Winnipeg Street
Regina SK
S4R 8P2
Cost: Free
Organizer