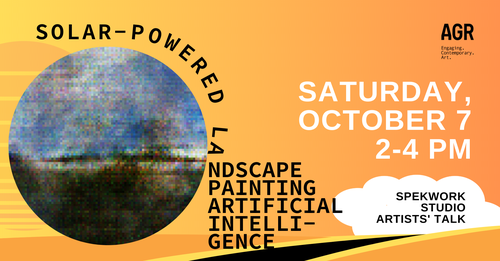 2023
Oct 07
2:00 PM — 4:00 PM
Courtyard, Art Gallery of Regina
2420 Elphinstone Street
Regina SK
S4T 1V4
Treaty 4 Territory
Map
Cost: Free
Artist/Author Talk
Arts: Visual
Arts: Media
Solar Powered Landscape Painting Artificial Intelligence - SpekWork Studio artist talk
Solar Powered Landscape Painting Artificial Intelligence - SpekWork Studio artist talk
DATE Saturday, October 7
TIME 2-4 PM (including group discussion)
LOCATION Art Gallery of Regina (2420 Elphinstone Street) or the AGR's YouTube Live (
https://www.youtube.com/watch?v=YO3lokK4ys4
)
COST FREE
presented in partnership with CARFAC Saskatchewan
SpekWork Studio (Cat Bluemke and Jonathan Carroll) will share their practice in new media technology, providing insights into the creation, coding, fabrication and other "behind-the-scenes" knowledge that serves to demystify generative artwork and digital media-based work. The artists will address attempting sustainable practices in digital art and bridge the perceived gap between electronics and the natural world.
Weather permitting, their presentation will take place en plein air. They will bring their solar-powered artificial intelligence artwork, GAN of Living Skies, outdoors and conduct their talk in the parklands surrounding the Art Gallery of Regina. The artists invite a free exchange of ideas and conversation following their presentation.
Cat Bluemke and Jonathan Carroll make art about work and play. Taking form as video games, performance, and expanded reality, their projects consider how technology regulates both labour and leisure. They have worked together since 2013, often as the collectives SpekWork Studio and Tough Guy Mountain. As SpekWork, they develop video games, virtual and augmented reality, and mobile applications that explore the connections between the subject of the user, worker, and player.
They are currently based on the South Shore of Nova Scotia, in Mi'kma'ki.
2023
Oct 07
2:00 PM — 4:00 PM
Courtyard, Art Gallery of Regina
2420 Elphinstone Street
Regina SK
S4T 1V4
Map
Cost: Free
Organizer
Accessibility
Wheelchair Accessible
Safe and Inclusive Space