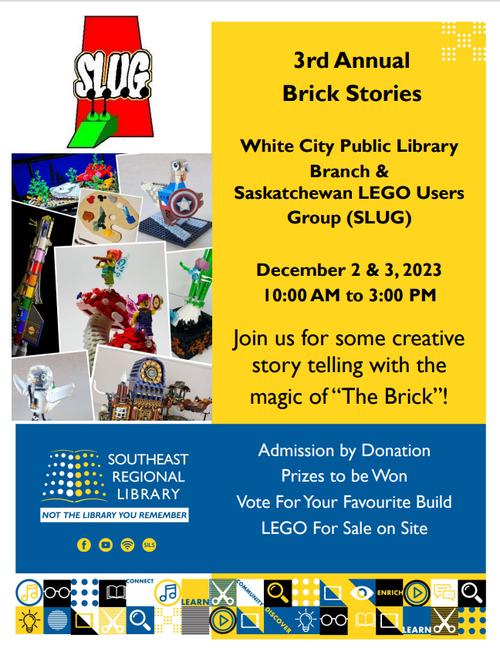 White City Community Centre
12 Ramm Avenue
White City SK
S4L 5B1
Treaty 4 Territory
Map
Cost: Free/By Donation
Art Exhibition
Arts: Visual
Arts: Multidisciplinary
Other: Other
3rd Annual Brick Stories
Join us for some creative story telling with the magic of "The Brick"!

The White City Library is hosting the 3rd Annual Brick Stories at the White City Community Centre. We are open to kids of all ages.

The event is a partnership with the Saskatchewan LEGO Users Group. There will be displays, plus opportunities to build and buy LEGO. Admission is free. Donations welcome. Vote for your favorite builds and the best "story popping out of a book"! Prizes available.
White City Community Centre
12 Ramm Avenue
White City SK
S4L 5B1
Map
Cost: Free/By Donation
Organizer
Accessibility
Wheelchair Accessible
Deaf / Hard of Hearing
Safe and Inclusive Space