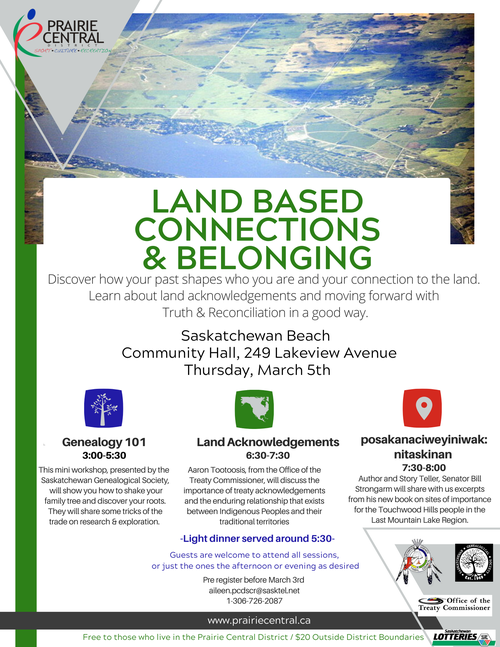 2020
Mar 05
3:00 AM — 8:30 PM
Saskatchewan Beach Community Hall
249 Lakeview Avenue
Saskatchewan Beach SK
S0G4L0
Treaty 4 Territory
Cost: Free
Free to people who live in the Prairie Central District ($20- non members)
Presentation
Heritage: Genealogy
Indigenous: First Nations
Multicultural: Competency Skills
Land Based Connections & Belonging
Discover how your past shapes who you are and your connection to the land. Learn about land acknowledgements and moving forward with Truth & Reconciliation in a good way.

3:00-5:30- Genealogy 101- This mini workshop, presented by the Saskatchewan Genealogical Society,
will show you how to shake your family tree and discover your roots. They will share some tricks of the trade on research & exploration.
6:30-7:30-Land Acknowledgements_Aaron Tootoosis, from the Office of the Treaty Commissioner, will discuss the importance of treaty acknowledgements and the enduring relationship that exists between Indigenous Peoples and their traditional territories
7:30-8:30-posakanaciweyiniwak: nitaskinan _Author and Story Teller, Senator Bill Strongarm will share with us excerpts from his new book on sites of importance for the Touchwood Hills people in the Last Mountain Lake Region.
2020
Mar 05
3:00 AM — 8:30 PM
Saskatchewan Beach Community Hall
249 Lakeview Avenue
Saskatchewan Beach SK
S0G4L0
Cost: Free
Free to people who live in the Prairie Central District ($20- non members)
Organizer
Accessibility
Wheelchair Accessible
Safe and Inclusive Space