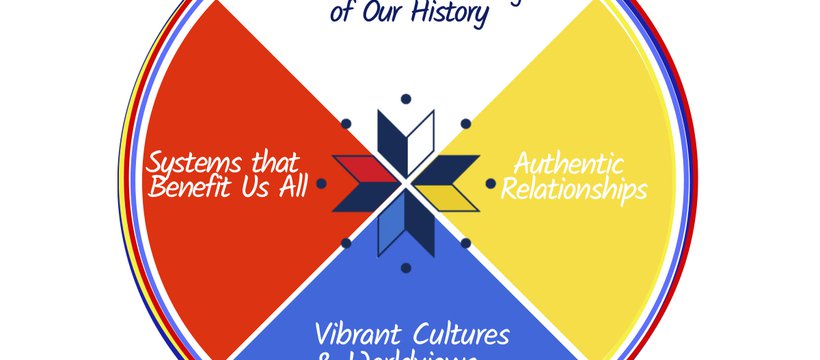 Advancing Reconciliation Beyond Words
In this issue

Engage - Volume 10, Issue 2, Spring 2020
Rhett Sangster is director of Reconciliation and Community Partnerships with the Office of the Treaty Commissioner, where he works to bring Saskatchewan people together in the spirit of the Treaty relationship. He draws upon his experience working in international mediation and conflict management to be a neutral facilitator, creating safe spaces for people, leaders and organizations to get to know each other and to build trust, with the goal of advancing reconciliation in the province. Engage writer, Shelley, interviewed him to get his thoughts on reconciliation in Saskatchewan.
What is "reconciliation"?
I like Senator Murray Sinclair's (Chief Commissioner of the TRC) explanation: "I want to be your friend and I want you to want to be my friend, and if we're friends we take the time to respect each other, and to understand each other and to learn from each other in a true friendship". I think this is an easy way to think about it.
Why is this important?
We're all here because of Treaty – a promise to share this land and to benefit equally as long as the sun shines, the grass grows and the rivers flow. This hasn't happened. Everyone understands that when you make a promise, it's a contract and we have a responsibility to keep that contract. There's also a self-interest argument – it's in everybody's interest – socially, economically - that we all do well. I mean we have differences and we need to understand each other better but we're all in this together – we're all Treaty people. No one is leaving so we have to figure this out. I think people are realizing this.
What is the OTC's role?
Our work is grounded in the fact that we are all Treaty people. We work with champions and leaders to bring First Nations, Métis and non-Indigenous people together to learn about each other; to talk about our common goals and objectives; and to build mutual trust and relationships with the aim to find a way to move forward together in a good way.
How is this done?
We talked with hundreds of Saskatchewan leaders, residents, Knowledge Keepers and residential school survivors, and these conversations led to A Vision for Truth and Reconciliation through Treaty Implementation, where four overlapping and continuous areas of work emerged:
shared understanding f our history
authentic relatinships
vibrant cultures and wrldviews
systems that benefit us all
How can people and organizations use this in their own work?
It is meant to inspire people to think about themselves, their organizations and their communities, and ask: What am I doing to build a shared understanding of our history in my organization or community? Do I have a sense of my own Treaty history? When and why did my ancestors come here and do I know the story of here they settled? What am I doing to build relationships with Indigenous people in my community or area of work? What am I doing to encourage vibrant cultures and worldviews? Am I engaging with diverse people?
Some of the systemic stuff includes: Do you have a budget line for reconciliation? If you endorse it, resource it. Do you have employees, management, and board members who are Indigenous? Do you have relationships with Elders who can guide you?
What is the most interesting thing you've learned along the way?
One of the most interesting teachings I got came from an Elder who pointed out that non-Indigenous people also lost their links to their ancestors because everyone had to assimilate, though obviously not to the same extent as Indigenous people. It really underlined for me how much we actually have in common but because of colonial policies like residential schools, the 60s Scoop and the Indian Act – we never had the opportunity to get to know each other, not to mention the devastating impacts on Indigenous peoples and their communities.

Where can people find information to begin or continue working on reconciliation?
There is a wealth of information and resources available:
Will reconciliation ever be achieved?
I am seeing good work. There is more engagement on these issues than ever before, thanks to the survivors of residential schools. It was their stories and truth that made people sit up, take notice and want to do better. However, there is a long way to go - the Gerald Stanley trial and other recent events show us that. But my work has brought me to spaces where there are farmers talking with Elders, visiting neighbouring reserves for the first time in their lives because they want to know more and find common ground.
We did a survey last year where we asked Saskatchewan people if they thought reconciliation is important and whether they think it's possible and 91% said yes it's important and 87% said it's possible. To me this is very hopeful – there's a lot of people out there that want to make change.
I know that Indigenous and non-Indigenous people can connect, work together and be friends like Senator Sinclair talks about because I've seen it in my work. We have a lot of history and legacy that is there that will take time to work on so that we have equal quality of life. I come from an international peace-building framework, and there it is as much about the process as it is about the end game, so maybe in some ways this work may never be done.
It's all about the relationship (the Treaty relationship) and learning how to get along and work together. And like any relationship, it takes work, and if you neglect things they start to fall apart. But I do think that in terms of getting to a point where people understand each other, are healthy, and are understanding, celebrating and learning from each other – we'll get there – it may take some time but we'll be a fantastic society because of it.