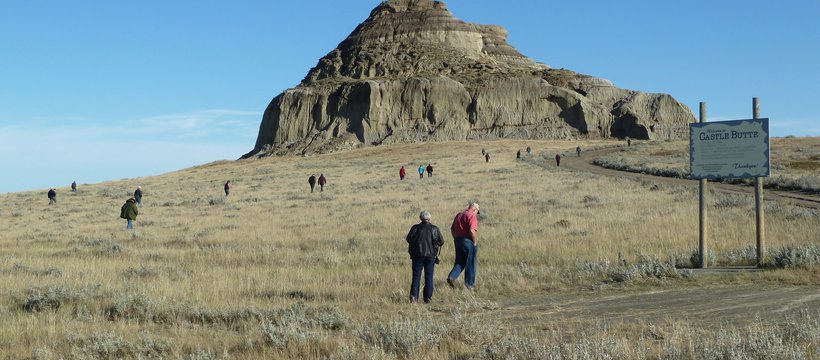 Adventures in Archaeology
In this issue

Engage - Volume 5, Issue 2, Winter - Spring 2015
Some people simply enjoy sitting back while enjoying the view, while others prefer to dig it up. The Saskatchewan Archaeological Society (SAS) gives people a chance to experience getting their hands dirty while learning history through their Annual SAS Bus Tour.
The idea of the annual bus tour came from Dr. Ian Dyck, an archaeologist on the SAS board and with the Saskatchewan Museum of Natural History, over 30 years ago. It was his idea that SAS should get involved in an opportunity for their members and the public to visit archaeological sites with expert interpretation. In recent years, the tours have sometimes expanded from two to three nights to reach sites further away. In previous years, the tours have reached destinations not only in Saskatchewan, but also in Alberta, Montana and North Dakota. They run in the fall, often over the Thanksgiving weekend. Numbers vary from 20 to 46 participants, and most are SAS members, however, the tours are also open to all interested. In September of 2015, the SAS plans to travel through the Quill Lakes area and into Riding Mountain National Park.
Karin Steuber, SAS member and employee, believes archaeology shouldn't be limited to ancient temples and the Pyramids, and that people here often miss that we have over 10,000 years of history in our own backyards. "Exposing people to that history, and having them think about it is our goal — to educate," she says.
Tomasin Playford, executive director, SAS, says these tours are important for not just the guests, but also for everyone involved. She adds the tours also benefit those in the regions they visit by demonstrating that people are interested in the area's history. "There are still people who want to get on a bus and go and see and feel and touch these things, and learn the stories first hand from the people who tell them," she explains.
Playford adds that what she really likes about the tours is that it's not always about the destination. "There is the understanding that we will be late, we might not get to everything on our list, it's fluid, we try to have speakers lined up, we have a banquet with a guest speaker, other than that it is fairly flexible."
Robert Clipperton, member and past president, SAS, says the Annual SAS Bus Tour can open participants to a different kind of learning experience.
"You need to use your imagination to fit the story into that piece of pasture land or canola stubble that you see in front of you."
"The bus tours are an odd sort of adventure," says Clipperton. He describes the typical experience as the bus stopping on a grid road at what appears to be the middle of nowhere, and all of the passengers get out while the tour leader points to a spot on the other side of the ditch. The guide relates a story of a person, building or event from long ago, and perhaps, tells a more recent story of an archaeological survey or an excavation in decades past. "You need to use your imagination to fit the story into that piece of pasture land or canola stubble that you see in front of you."
The advantage of taking ones of these tours, according Clipperton, is uncovering what makes a spot interesting with a group of people. "There are always surprises, bones sticking out of a cut bank at the side of the road, a small town museum that has an artifact that is a real rarity, an impromptu meeting with a local resident with a story to tell," he adds.