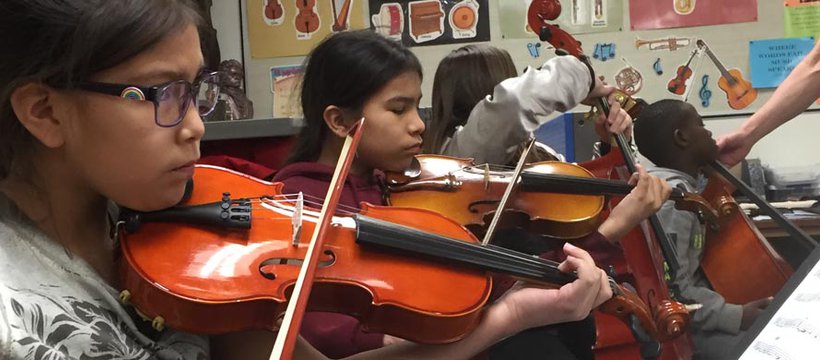 After-School Program Engages Children in Music
Jose Antonio Abreu was a six-year-old taken under the wing of a local piano teacher. Twenty years later, Abreu, having switched to violin, formed an orchestra with fellow university students. Remembering the difference that piano teacher made on his life, he decided to make a change in the life of kids by teaching them music. He begged and borrowed instruments and put out the word.
As the story goes, on the first day, 11 kids showed up. But the next day, there were 25, then 75, and finally 150. Abreu spent many hours working with the budding musicians, and it paid off when, after a performance attended by government officials, he was able to get funding for his project, which he dubbed El Sistimo for the system he established: free, intensive instruction by professionals.
Abreu's idea spread around the world. Tanya Derksen, former Executive Director, Regina Symphony Orchestra, shared the idea and possibility for programming with Kathleen Clarke, a retired music teacher in Prince Albert. Her enthusiasm for the idea created energy and interest that resulted in a similar opportunity.
"I knew, with a deep certainty, that there was a need for such a program in our city," Clarke recalls. And she was certain "this could be the perfect fit for me – I had the time, the background, the contacts, and the will."
Clarke and a friend, music festival coordinator Colleen Bowen, took on the task of organizing a Prince Albert version of El Sistemo, dubbed Firebird North. Volunteers and donors of instruments and money soon joined them. A flurry of activity including setting up a GoFundMe campaign, recruiting instructors and arranging for use of a school gym, followed. With financial support from the Saskatchewan Orchestral Association (SOA), supported with funding from Sask Lotteries, and the Community Initiatives Fund, the program got off the ground in November 2019 – just a few months before the COVID-19 pandemic closed it down.
Elaine Kaloustian, SOA executive director, says her organization has "a specific interest in expanding services to northern Saskatchewan, where sustainable programming can be more challenging." She added that Firebird North's program "could work well in areas with groups that experience socio-economic challenges and remote communities."
During that brief window of operation last year, 20 students from grades 2 to 5 were enrolled, primarily from Indigenous and/or immigrant backgrounds.