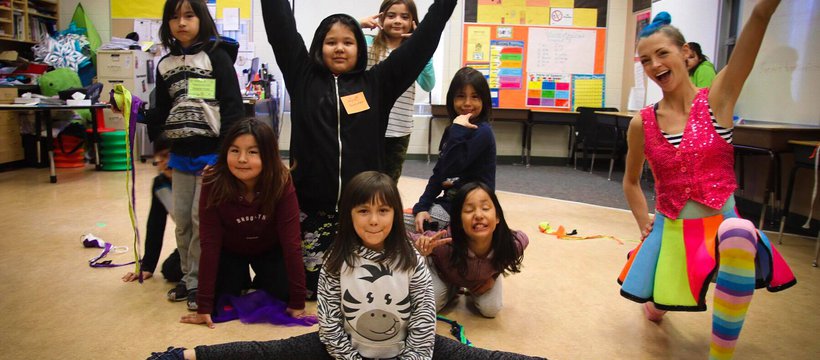 Circus Arts Inspires Northern Saskatchewan Kids
Northern Saskatchewan children received the opportunity to join the circus and have some fun for a week thanks to innovative program that connects kids to the circus arts.
Kindergarten to grade 5 students Pinehouse Elementary school in Pinehouse, located a few hours north of Saskatoon, were treated to the craft of circus arts over a course of a week this past March. 'Circus and Magic Partnership' (CAMP) is a popular and successfully program originally created in Winnipeg that connected underserved and at-risk youth with arts activities. The Northern Saskatchewan International Children's Festival partnered with CAMP to bring The Northern Circus Camp to youth who might otherwise not be given the opportunity to try circus arts first-hand. This program received funding from the Cameco Creative Kids Northern Cultural Fund (CCNK).
The Northern Circus Camp included 6 different professional circus and arts practitioners, such as: juggling, stilt walking, hula hooping, flower sticks and unicycling. Twelve artists spent a week in the community and worked with the children throughout the week. During the week, the 167 participating students tried different activities and by mid-week they chose which one they would like to perform in front of an audience on the last day, all of the participating students presented a performance for family and community members that demonstrated some of the skills that they learned throughout the week.
"The show was amazing," says Blayne Bird, a juggler and unicycle performer, was one of the circus arts instructors who spent the week teaching the children the art of circus magic.
According to Bird, the kids received the opportunity over the week to discover new skills that they otherwise wouldn't have had the chance to learn. "The kids loved learning new skills. Different skills meant a different challenge for the kids. " he adds.
The circus equipment was left in the community after the program ended, so students could continue to improve their skills. A teacher was also trained on how to safely use and maintain the equipment, in order to ensure that it remains accessible to the students.
"The kids gain so much confidence in themselves through circus arts. They realize things that are fun are also challenging, as are things in life," Bird adds. "Circus arts also brings out a different side of the children as it's fun and not competitive."