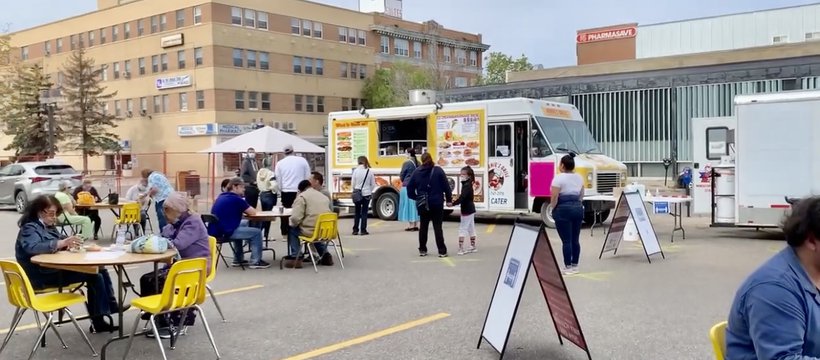 Combining In-Person and virtual Programming for a new Cultural experience
In this issue

Engage - Volume 11, Issue 1, Fall 2020
Across Saskatchewan, annual events have created brand new formats in order to stick to new public health guidelines to help keep patrons safe. Instead of postponing or cancelling due to COVID­19, the Tapestrama Festival in Prince Albert re­imagined the festival experience creating a blended program that combined both in­person experiences with digital components.
"It has been very challenging for everybody since COVID­19 started, a lot of programming, services, concerts, events have been modified or even cancelled or postponed," says Michelle Hassler, executive director, Prince Albert Multicultural Council (PAMC)."Tapestrama has been a huge part of the community for many years now, and we did not want the year to end without having Tapestrama. We still wanted the community and even the whole province to come together safely as one and celebrate the various cultures we have in our community."
With the decision made to proceed with the Festival, organizers begin to identifywhat they needed to bring to this year's programming. Most importantly "food is such a huge part of Tapestrama, we needed to have food. But, due to COVID­19 restrictions, we were only allowed no more than 30 people in the venue. That's when we decided to have Multicultural Food Trucks outside where we could allow more people to be able to purchase food during the Tapestrama Festival," Hassler says.
In addition to having Vietnamese and Filipino Food Trucks supplying traditional Asian cuisine, participants were also able to experience multicultural performances associated with Tapestrama. Music and dance routines were shared on screens that were set up as part of the outside venue. "We decided to have large screens with speakers outside so, even when they are lining up for food, attendees would still be able to watch the virtual cultural performances," Hassler adds.
"With our virtual celebration, most of the cultural performances, music and dances offered the the chance for performers to talk about the meaning of their song, dance, or their traditional regalia. There was an opportunity for storytelling within the performance, so that participants not only got to enjoy and witness the performances, they learned from it."
The food truck in­person event had over 200 participants over the two­day weekend, while the virtual event had over 10,000 views and reached a total audience of over 11,000 people. "I think participants were happy to be able to still celebrate Tapestrama this year despite COVID­19," Hassler says. "Having it livestream online gave many individuals, who are going through challenges and who are not able to attend the regular events, the opportunity to participate and celebrate with us. It's something you don't think of, but it's there, and PAMC would like to continue to provide this, if we are able to, in next year's celebration to be inclusive of all."
While the event was a resounding success for organizers, it wasn't without its share of hiccups due to the digital learning curve.
"It's challenging and risky not knowing how the internet and technical equipment will work that day. We did have a couple of technical glitches, for a short period, but it's part of the virtual world," she says. "My advice, if doing a virtual celebration, is to make sure to tap into professional help in doing so because they definitely know what is best. Plan to get started as soon as you can, just in case there are technical challenges. Just have fun. You are doing this for the community and that's the most important thing!"