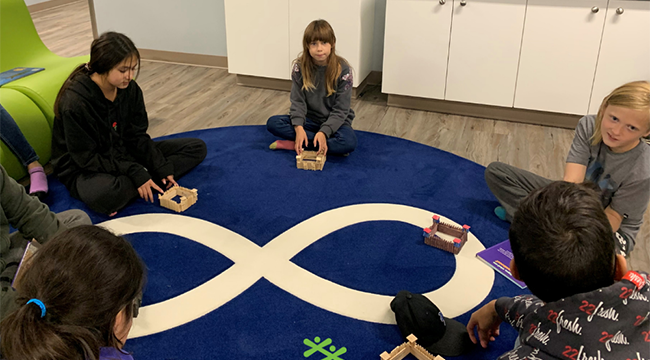 Métis Mondays with the Battlefords Boys and Girls Club
In this issue

Engage - Volume 11, Issue 1, Fall 2020
Youth, ages 11­14, are building meaningful relationships through their shared connection to culture.
A new, weekly program, called Métis Mondays, highlights and celebrates the Métis culture, instilling a sense of pride, compassion and understanding among its young participants, who are mostly from First Nations and/or Métis backgrounds.
Nicole Combres, executive director, Battlefords Boys and Girls Club, describes Métis Mondays as an opportunity for youth to learn about and celebrate Métis culture and an opportunity to engage in Métis cultural activities. Participants engage in hands­on activities showcasing Métis culture and art, while also learning about Métis heritage and values.
While organizers were very aware of COVID­19 concerns, they felt strongly it should be an in­person program. "We don't have any virtual programming, so we decided the sooner we could gather the better," says Combres, of having to work within COVID­19 protocols. While the group meets in­person, she says "there's no longer drop­ins because of strict capacity, so we had to move to a registration process." Only 15 youth at one given time can participate. Each participant is screened by health questions before before being admitted, with temperature taking, with hand sanitizing at the door, followed by hourly hand washing and washing before and after eating.
"All of our program staff are wearing masks," Combres says, "but we haven't made it mandatory for the members. We do supply them if they want to wear them." And in the program space, program staff are encouraging physical distancing and air high fives.
COVID­19 aside, Métis Mondays are providing an engaging cultural experience. Combres says the hands­on activities create a sense of pride, accomplishment, and teamwork. Projects include forts, kits to assemble and decorate, and tactile kits that include beaver and rabbit pelts, the Métis sash and flag, cards, a fire bag and other objects which are educational and hands­-on.
"You don't get your final results by the snap of a finger — it takes thought, confidence, persistence, practice, and teamwork. Hands­on is really important for teachings, it's an opportunity to teach along the way and take pride in the finished result they [participants] put effort into.
"We want to make sure that we're providing opportunities for our members to learn in ways that they maybe don't have opportunities to learn from normally," she says, adding that this increases their awareness, understanding of diversity, and ability to celebrate each other and one another's differences. "We have to take time as an organization to showcase different cultures and the diverse members and staff that we have. Sometimes differences are viewed as negative or less than, and here we make sure that we celebrate our differences —that's what makes everyone unique and special." She adds that it's important to reach the youth because they're the future of the community.
If not for COVID­19, the Battleford's Boys and Girls Club would have been able to have a larger gathering each week and the program's Métis resource people would have been able to join them in­person. As it is, the organization only has about a third of its members participating.
These days public safety in programs requires constant vigilance. "We are ensuring we have one staff member handling the nutrition from start to finish," notes Combres, adding the organization had previously gotten used to all the members helping with food prep and serving as part of the program.
"Even just how we set up the programming space, we had to ensure that we had furniture that was easily sanitized that we could space out," she notes, explaining how they are also using hospital grade cleaning products and have additional cleaning staff.
Combres adds that they are incredibly grateful for the support of Sask Lotteries funding, through SaskCulture's Métis Cultural Development Fund, in being able to provide Métis Mondays and the Métis programming. "When you're working through the best of days, let alone a pandemic, our revenue haven't expanded, so we're incredibly grateful for the support in adding programming."