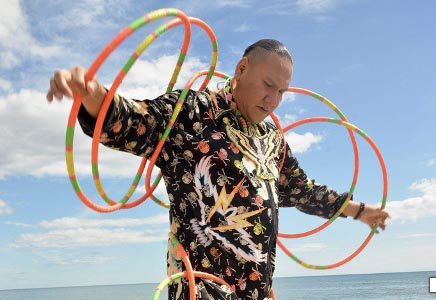 The Show will Go On!
In this issue

Engage - Volume 11, Issue 1, Fall 2020
The 32nd Annual Nutrien Children's Festival of Saskatchewan had a huge twist this year. Instead of being hosted outside in a park, the whole program went virtual. Instead of a few days, the festival lasted the whole month of August. In addition, changes to this year's programming not only created more opportunities, but being online helped it reach many more participants.
"We wanted to be able to give the children an interactive experience but also engage them and keep everyone safe as well," says Darcie Young, general manager, Nutrien Children's Festival. "We decided in the summer months on the perfect time, when nothing was going on due to COVID­-19 restrictions, and the response was great."
Prior to recent restrictions the event was held over a four­day period, with two main stages that showcased the latest performances in children's entertainment. "We generally had about 10,000 in­person attendees in that time period in previous years," explains Young.
When the decision was made to run the festival online for a month, the task was set for organizers to provide content and entertainment for those tuning in for both morning and afternoon workshops. In addition, Nutrien Children's Festival created a YouTube channel where people could view the events on their own time.
The Festival, which became a province­wide party for children, began with performances from various entertainers. Workshops included Indigenous Hoop Dancer Terrance Littletent; Omayra Issa, who shared stories about African Villages; and Michael Linklater, of the Boys with Braids movement, who talked about the significance of long hair for Indigenous Peoples.
The Cochran family, who usually attended the Nutrien Children's Festival each year, were somewhat disappointed when the festival was first cancelled, then postponed. However, once they realized it was going to take place online for a whole month, "the enthusiasm was once again on in the household," says Carla Cochran.
"When we saw Michael during the storytelling activities, he really caught our attention with his long hair," she says, explaining how the family was intrigued. She noted that Linklater's message resonated with her son Jagger.
"It was like, oh wow that is really cool. Of course, Jagger could identify with some of Linklater's message of honour and knowledge he shared in his stories." Jagger, 9, Grade 4 student, says that "I have never had experience with short hair. I am proud of my hair and I like that Michael was proud of his hair."
Over the years, the Nutrien Children's Festival has hosted culturally diverse programming. Young was ecstatic when she learned of the success the Cochran family had with the Boys with Braids Read­Aloud programming and how they encouraged others to check out all the other festival events.
Organizers are now playing it by ear, but are already planning next year's activities. "We hope that once everything goes back to a semi­new normal that the festival can be held over the four­day span [as in the past], in the park with stages and line­ups," says Young. "But until then we will keep aiming to provide interactive and diverse entertainment for the children."