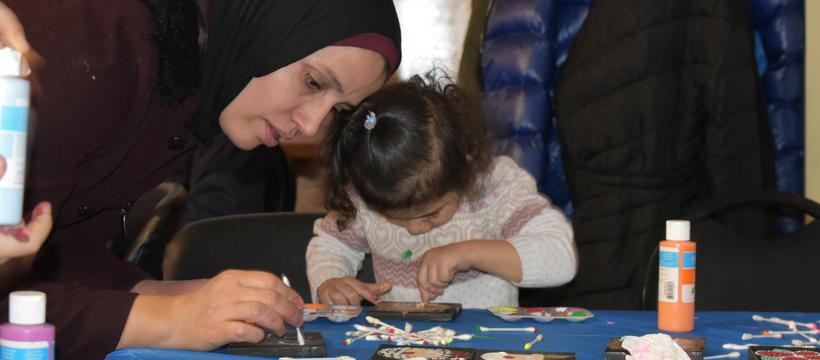 Connections to Others Key to Common Ground
In this issue

Engage - Volume 12, Issue 1, Fall 2021
When newcomers arrive in Canada, their first impressions of Indigenous peoples are often based on myths and coloured by the negative stereotypes of others. A project in Prince Albert aims to break down these stereotypes and help newcomers connect directly with First Nations and Métis peoples to hear their stories and learn the truth.
The Common Ground project, which started as a pilot in Prince Albert in 2015, has continued to make headway, bringing different agencies together and helping to foster awareness and understanding among different cultural groups, with a particular emphasis on connecting recent newcomers with Indigenous peoples. While it started with the Building Relationships Through Intercultural Dialogue and Engagement in Saskatchewan (BRIDGES) project, Common Ground has continued to develop new programs that address misconceptions and support anti­racism education.
Much of its work is designed to build cultural understanding, particularly the understanding that newcomers have coming to this country. "Getachew Woldeyesus, a Settlement Services Manager from the Regina Open Door Society, recognized that newcomers were chronically misinformed about Indigenous peoples and cultures," says Lemoya Lorensen, project coordinator, Common Ground Project. An effort to dispel myths, coupled with the TRC Calls to Action, guided the formation of the project.
"The ethnocultural landscape that comprises Saskatchewan is continually changing," says Lorensen. "With this change, the BRIDGES project was born to promote intercultural relationships, culture sharing, and reduce biases between recent newcomers and Indigenous communities. Common Ground represents the local organization of the provincial BRIDGES work."
As part of its work, Common Ground has focused on building interagency partnerships that could contribute to the creation of a more cohesive and inclusive community. This includes bringing together the Prince Albert Multicultural Council, YWCA Prince Albert, and Indian Métis Friendship Centre to organize activities.
According to Lorensen, "The pilot project focused on building the interagency partnership relationships and developing activities to foster deeper­level intercultural relationships, with a focus on Indigenous and newcomer communities. These connections help to reduce biases and preconceptions between the target communities and develop opportunities to share, understand, and find 'Common Ground' with one another."
Besides events held in part with the Tapestrama Cultural Festival, standalone events such as Round Dances and Potluck Suppers, Common Ground increased its focus on anti­racism and Reconciliation with its Creative Connections for Youth project, as well as an Anti­Racism Forum.
This past year, Common Ground has made a particular focus on activities centered on recognizing the International Day for the Elimination of Racial Discrimination. "We held two 'Colonialism on Canvas' sessions, one as part of the Creative Connections for Youth program, that featured a local artist and activist. Each offered a perspective on racism within the city and the province," explains Lorensen.
The COVID­19 pandemic posed challenges to offering more traditional programming. "Throughout the project, we've often held live events that featured speakers, activities, and food. These types of events could not be held under ever­changing COVID guidelines," says Lorensen. "In adapting, we tried to develop activities that were highly interactive. This included sending out painting kits for our Colonialism on Canvas sessions, the use of icebreakers and breakout rooms in Zoom sessions, and integrating new platforms such as Facebook Groups, Microsoft Teams, and Google Hangouts."
Despite these challenges, Common Ground continues to find room to grow. "Ad hoc relationships have been the key to ensuring representation that reflects different communities. Our agency partnership has grown to include the Lakeland District for Sport, Culture & Recreation and the Métis Central Northwest Region, allowing us to increase our capacity to deliver activities and services that involve the whole community."
As it evolves, Common Ground continues to provide the connections that benefit the community as a whole. "It is important to remember that no one individual is an expert on a whole culture, but only of themselves. These one­on­one opportunities to communicate on a human level or as peers paves the way for deeper connections with others."
This project received support through SaskCulture's Multicultural Initiatives Fund, funded by Sask Lotteries.