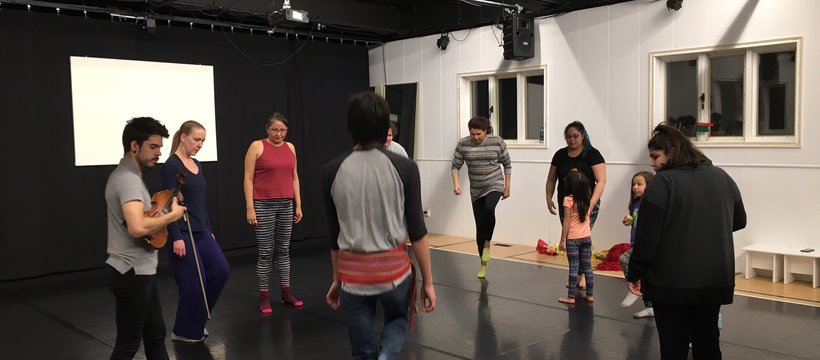 Dance Opportunity to Explore Métis Culture
In this issue

Engage - Volume 7, Issue 1, Fall/Winter 2016
The word "braid" means "to weave together", and recently, a series of dance workshops about Métis culture gave Saskatchewan residents the opportunity to explore the interwoven connections between Indigenous and European heritages.
Led by New Dance Horizons, The Métis Dance Braid Project, held at the Mackenzie Art Gallery in Regina, allowed participants to engage with the history and practices of traditional Métis. The first two workshops, held in January and February, featured specialists in Métis jigging, powwow, and square dancing accompanied by fiddle and spoon players.
"It was about considering European dance roots in history," says Robin Poitras, artistic director, New Dance Horizons. "First Nations traditional dances [and those roots] are where Métis dance sprung from, but it has its own unique expression."
The project, which received a SaskCulture Métis Cultural Development Fund grant, brought together prominent members of the Métis dance community across Saskatchewan and Canada, including Yvonne Chartrand, award-winning choreographer and master Métis jigger; Elder Jean Pelletier, the first known female Métis square dance caller; and Marcus Merasty, professional Metis dancer. Others included Fiddler Nathaniel Baker; Seven Stone School Educator Alison Kimbley; Aboriginal Community Worker Ashley Norton; and Retired Educator and Children's Book Author Wilfred Burton.
"The workshop reached many people. When we have shared experiences, we tend to understand other cultures better." ~ Retired Educator and Children's Book Author Wilfred Burton.
This past March, the dance company held intercultural exchange events, related to First Nations Powwow and traditional Métis dance. Participants learned basic steps and were encouraged to create their own.
Krista Solheim, contemporary dancer who served as the project's Assistant Director, says, "Each teacher took a piece of the class [and taught], so we did some jigging, and some powwow. Then we jammed it all together—that part was fun."
Poitras also stresses that her company's connection to Métis dance is not a new concept. "Workshops that New Dance Horizons has been involved in [regarding Métis culture] have been going on since my connection with Yvonne [Chartrand], which began nine years ago."
"Yvonne was my first formal introduction to Métis dance, and when we met, she took me to meet Jean [Pelletier]. Meeting Jean was special. She is responsible for an entire generation of dancers," she adds.
Poitras further explains, "The workshop hopefully helped to expand a platform for something that is already happening. There are a lot of Métis dance gatherings across the country. We're just opening doors and bringing it to a wider audience."