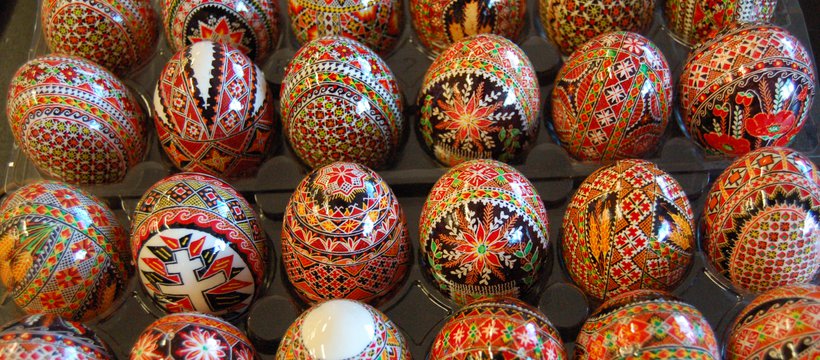 Five things you might not know about the Ukrainian Museum of Canada
In this issue

Engage Volume 4, Issue 3, Summer 2014
You may know the Ukrainian Museum of Canada tells the story of many people's immigration to Canada from Ukraine, but here are five other things you might not know about the first ethnic museum in Canada.
1. It's a "hands-on" kind of place.
Some museums are places that people go to see art. The Ukrainian Museum of Canada has lots to look at, but it also has lots to do. As Janet Prebushewsky Danyliuk, director and chief executive officer, puts it, "We want to give people an experience. Watching a video of someone creating an Easter egg is not the same as peeling away the wax yourself and uncovering the design that you created. Listening to music online is not the same as being in the gallery with a live ensemble. We offer involvement and we encourage people to engage with the museum. Social media lets us share what's going on. We've been astonished at the responses we get! Then we invite people to come here...live and in-person!" Each year, between 10,000 and 12,000 people accept that invitation and visit the museum.
2. Perched on Spadina Crescent, over¬looking the South Saskatchewan River, the museum is a lot bigger than it looks.
The permanent collection includes 30,000 items. Most people, even in the Ukrainian community, are unaware of the full scope of the museum's collection, or of its rarity. In the Main Gallery visitors learn about immigration to Canada. The Special Collections Gallery features paintings by the artist and writer William Kurelek. Exhibits change in the Feature Gallery every three months.
3. The entire community gathers here.
The museum focuses on Canadian culture and history, as well as Ukrainian culture, and has a deep base of grassroots support and volunteers. Ninety per cent of the museum's operating budget is self-generated, thanks to donations and gift shop revenues. Additional funding comes from SaskCulture, City of Saskatoon, SUS Foundation of Canada and other community granting sources. With recent events in Ukraine, visitors find the museum a source of non-political, non¬denominational background information and Ukrainian history.
4. The museum likes a party.
Throughout the year, the museum lets down its hair. The three-day Christmas market (yarmarok) is a major event for the museum, with music drawing people in the doors from up and down Spadina Crescent in Saskatoon. Each year at Easter, about 1,000 people learn the folk art of decorating pysanky (Easter eggs). Artists' receptions, concert performances, book launches, a pancake breakfast, and a Ukrainian medieval feast keep people engaged throughout the year. Children who visit on school tours often come back on the weekend with their parents or grandparents in tow.
5. Saskatoon is headquarters (HQ) to a national organization.
The Saskatoon museum acts as headquarters, but there are five other branches in Vancouver, Edmonton, Calgary, Winnipeg and Toronto. Together, the Museum is one of Canada's foremost heritage organizations.
The Ukrainian Museum of Canada receives funding from the Museum Grant Program, supported by SaskCulture thanks to Saskatchewan Lotteries Trust Fund for Sport, Culture and Recreation.